Features & Columns
SubZERO Fest Reaches its Wonderfully Weird Potential
Arts and crafts take center stage at downtown San Jose's premier street festival.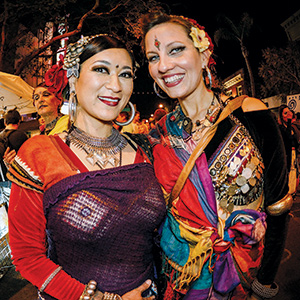 Yet another glorious and weird SubZERO Festival exploded along South First Street last weekend, attracting performance artists, poets, furniture makers, street dancers, avant-garde musicians, punks, tattooists, gardeners, derby girls, indie clothing heroes, kids doing cartwheels, food trucks and craft beer junkies. And that was just one corner.
Every time this festival comes around, I overhear the same exact conversation: How progressive, awesome and wonderful SubZERO is, and then—in the same sentence—how it doesn't feel like San Jose.
Friday drew many more people than Saturday, but that's not to detract from anything in the slightest bit. As always, various microcosms percolated at various vortexes of the whole festival. Three stages provided a better variety of rock music—old farts and newbies alike—than any one particular club can provide. And speaking of clubs, places like the Ritz and Cafe Stritch rightly turned into gathering spots as the festival began to wind down. Unlike the first couple of SubZERO years, no one from Los Gatos showed up and complained that the streets were too dirty. Instead, everyone's Facebook and Instagram feeds exploded for two days of colorful strangeness.
So what was different this time around? Glass. And lots of it. The Glass Art Society 2015 conference unfolded the same weekend. So many galleries exhibited phenomenal art shows devoted to glass, ramming it home that glass art is not a bunch of decorative ornamental schlock for hotel lobbies or dentist offices.
WORKS/San Jose, for example, is currently exhibiting one of the best shows in its decades-long history. Enlightened Glass explores the mixed-media use of xenon, argon, flame-work, mini-plasma flares and several cross-media sculptures incorporating LED technology, incandescent attributes or components resembling tiny Tesla coils. Some of it is borderline science-fiction or conspiratorial in form and concept. In the show, glass opens up to a whole new set of narratives and experiences.
Over at MACLA, a more indigenous and earthly influence appears in the work of Viviana Paredes. Dealing with the relationships between ancestral foods, agriculture and the rituals performed to protect the environment, the show features works of glass that one would not expect. Resembling a glass igloo of sorts, The House that Tequila Built is made from recycled and deconstructed Patron tequila bottles, addressing the cultural appropriation of the agave plant, the mythology and iconography of which is known throughout the Americas. For a few thousand years, the agave plant has been used for medicine, shelter and food.
Those are only two galleries currently displaying glass work. Shuttle buses took at least a few hundred conference attendees to other galleries not within walking distance or directly connected to SubZERO. Empire 7 Studios saw consistent streams of folks coming in and out of its glass show all night long, before the shuttles took them back to downtown proper.
As a result, hundreds of folks with conference laminates could be seen all weekend showing up at all the galleries and art shows throughout the neighborhood. The gallery hop and SubZERO were part of the conference materials. If conference events prevented delegates from experiencing the raging hours of SubZERO proper, people made a point of visiting the galleries in the daytime. This is exactly what should be happening in any real city anywhere. A major convention or conference takes place and a dozen local galleries operate in conjunction. Everyone wins. I really don't think such a collaboration has ever unfolded here in quite the fashion I saw last weekend. All in all, the events were a great showcase for the local arts scene.
And back at SubZERO, the festival brought hordes of interesting people out from every shard of the woodwork for two glorious nights of creative manifest-destination energy. If you had any smidgen of maker-ability, you would have found someone to love. It's really hard to fathom that Brian Eder and Cherri Lakey started this whole idea in a parking lot eight years ago. Now SubZERO has grown to be San Jose's most anticipated yearly tapestry of subcultures. And the local arts community is a zillion times better as a result.