Features & Columns
Viva CalleSJ
San Jose gets down and eastbound for inaugural Viva CalleSJ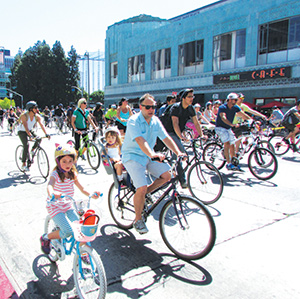 Unlike mostevents in which streets are forced to shut down, the inaugural Viva CalleSJ isn't a race. Anybody—as long as they don't bring a car—can take to the concrete this Sunday along any portion of the route and simply trip around in whichever direction they want, all to experience the guts of San Jose.
Six miles of streets will be closed to automobile traffic from 10am-3pm for the free open-streets recreational adventure, which, supported by the Knight Foundation, intends to create a temporary autonomous zone where people can walk, bike, skate, play and explore the city like never before. Dozens of local institutions and businesses will participate. At specific points of the route, one might see cyclists, yoga practitioners, Vietnamese sandwich contests, vendors, dancing, musical performances, marauding packs of skaters, arts organizations and much more. San Jose's Parks, Recreation and Neighborhood Services department, as well as the Silicon Valley Bicycle Coalition, are orchestrating the whole shebang.
The route, "Downtown and Eastbound," instantly reminiscent of the Smokey and the Bandit theme song, will take participants from St. James Park in downtown San Jose south to the Willow and Vine neighborhood, and then east down Keyes Street until it turns into Story Road. From there, Story will be closed all the way to Emma Prusch Farm Park. Good luck getting to Walmart that day.
And this is not an extremist political stunt run by anti-automobile peeps. Rather, it's inspired by similar open-streets initiatives in Guadalajara, Bogota and other cities around the world. The name combines the Spanish "Viva Calles," which can mean either "the streets live," or, "long live the streets," or both. It's a fantastic idea because everyone knows that driving is the worst possible way to explore San Jose, so if everyone has a few hours to walk, ride or skate around and inspect slices of the urban fabric in unusual ways, then curiosity will improve.
Disparate communities that don't normally experience one another will now get to see what each has to offer. Weird and awesome little-known stripmall businesses will get a turn in the spotlight. Civic pride will materialize from nowhere, or at least increase a little bit. Just to see Story Road closed off to traffic will be worth the experience. I don't know how many hundreds of thousands of cars pass through the intersection of Story and King every month, but now, gobs of people on bikes and on foot will be a joy to watch.
Angel Rios, of the city's parks and rec department, says he and his colleagues envision parks, trails and community centers as places to engage, meet other people and simply have fun on their own terms. Viva CalleSJ is about temporarily putting aside the hustle and bustle of congested San Jose life.
"If I had to put it in a nutshell, it's really building communities through fun," Rios says. "That would be the overarching goal here. And in the process, people can choose their pleasure, if you will. There'll be Zumba, you might see vendors, people with health information, people skating, walking. There's not a lot of whole lot of rules on what needs to happen."
In short, open-streets initiatives are precisely what could break down barriers and connect parts of San Jose that aren't normally intertwined. I have often characterized San Jose as 30 Haywards duct-taped together with no common bond whatsoever. No one in Berryessa cares what goes on in Almaden, for example. No one in Evergreen cares what happens at Union and Camden. You get the picture. If a particular route opens up for just an afternoon, so people can take to the cement and explore, then maybe things will improve.
According to Rios, Viva CalleSJ represents a shift in the direction of the parks and rec department as a whole: "We want to do more than just maintain parks," he says. "We want to activate our city."