Features & Columns
VivaFest Partners with MundoFox
In just a little more than 20 years, the Mariachi Festival has blossomed
into a wide-ranging celebration of Mexican culture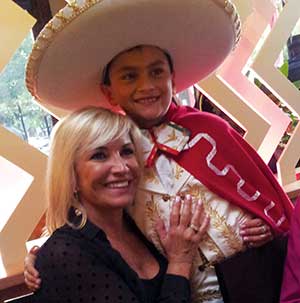 As Orchestrators of the gargantuan VivaFest, the San Jose Mariachi and Mexican Heritage Festival that unfolds in San Jose all through September, the ' (MHC) celebrated the beginning of a new era last week. A partnership with MundoFox, the new Spanish-language American broadcast network, was announced during a grand-scale fundraising celebration at a new Campbell restaurant, Ciano's Modern Latin Flavors.
At the party, the anti-man-about-town slid into a table with bigwigs from MundoFox, ESPN Deportes and the Mexican Consulate General's office. Mariachis filled the restaurant, sangria flowed and everyone devoured Latin American delicacies. Just about every passerby on the sidewalk stopped to watch the music through the open restaurant facade. The band even played "Ai Mi Manera," the Spanish-language version of "My Way." Sinatra and the Gipsy Kings would have been proud.
Now, of course, some local context. Initially a mariachi-dominated festival 22 years ago, the whole shebang, now branded as VivaFest, celebrates many flavors of Mexican heritage in ways that many can enjoy. Mariachi faculty from far and wide arrive to teach educational workshops and help implement K-12 programs. Gigs unfold in places as large as the Shark Tank and as small as a street corner. Parks, theaters, classrooms, libraries, museums and the Consulate General's office all serve as venues during the month-long celebration. And with tons of archived video material from previous festivals ripe for dispersal, long-term supporters of MHC, as well as its board, are jumping for joy at the MundoFox partnership. A corner has been turned.
Andrew Hill alumnus Mike Canul, now MHC Chairman of the Board, says that after financial uncertainties had put the corporation's future in limbo, he was blown away by the celebration at Ciano's last week and at the progress now being made. Seeing a huge media partner like MundoFox step up and participate almost made him cry. All those in attendance, Hispanic and non-Hispanic, were there to support music and arts education. Even though a TV network is now partnering with MHC, the fundraiser did not seem like a corporate schmooze by any stretch. Everyone seemed to be part of one big family. A 10-year-old kid even sang a few mariachi numbers.
"There were people in there that didn't have a GED, there were people in there with a Ph.D.," Canul says. "And everyone was interacting on a positive high note. It was so refreshing from all these events that are mucky-muck, where you're sitting there and it's the same old people, with the same old speeches, and you don't know where the money's going. Maybe we're moving on into a new era."
Regarding VivaFest itself, the anti-man-about-town can attest to the energy exemplified by these events over the years. For a few seasons, Linda Ronstadt was even involved as artistic director. One year, a small press conference took place at her house near the Seacliff neighborhood of San Francisco. At that event, legendary activist Dolores Huerta sat in on the conversation and we all felt in the presence of royalty. Another year, Carlos Santana showed up to give a press conference in the Fairmont. Listening to Santana emphasize the importance of music for youth education while bashing Ronald Reagan and Arnold Schwarzenegger was like watching him play an elaborate mystical guitar solo of some sort. Everybody in the room was in tune.
This year's VivaFest promises to offer another eclectic variety of activities. Folklorico dance workshops and films will unfold at the Tech Museum. The Consulate General's office will exhibit a show dedicated to legendary Mexican illustrator Jose Guadalupe Posada. The main outdoor mariachi festival will take over Arena Green on Sunday, Sept. 15. Stay tuned for more coverage as the events draw closer.
After the variety of music and educational programs have concluded, VivaFest executive producer Marcela Davison Aviles says returning music and art to elementary schools is key. It's a battle that must be waged.
"Part of what we want the festival to do is to continue to put a spotlight on how music education can change lives and how it can create an impact on our community," she says. "And why it's important to include a music education and an arts education into a whole curriculum."