Features & Columns
The Anti-Man-About-Town
Looks Back At 2015
From a wicked Man U match to killer art installations and resurrected neighborhoods
and shows, the Alleys this year were filled with attractions.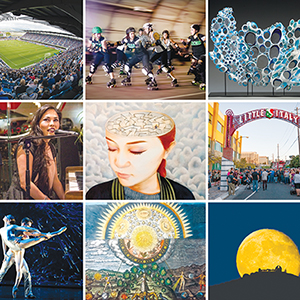 Aside from Sinatra turning 100, I can say that 2015 was a very good year, at least for Silicon Alleys. Numerous crystallizations of the San Jose condition, as well as those of neighboring valley enclaves, appeared in this space over the course of the last year. In many cases, visual arts, urbanism and local history all overlapped in various columns with multiple layers of contemplation.
First of all, 2015 was a year of neighborhoods, both geographical and psychological. The Alchemy Museum, a groundbreaking project at Rosicrucian Park for example, emerged as the esoteric theater of San Jose operations. Thanks to the Rosicrucians, San Jose can now alchemically harmonize its opposing halves and transcend the duality of urban/suburban. The celebrated intersection of Park and Naglee will never be the same.
The Little Italy project, in another case, reached its own milestone in spirited fashion, when its gateway arch finally emerged in grand fashion. That neighborhood, once it actually happens, will likewise never be the same. Also, over in the SoFA district—you know, those three blocks running south of Original Joe's—layers of bohemian substrata resurfaced yet again via the SubZERO fest, some groundbreaking jazz madness bordering on quantum physics at Cafe Stritch, and even a new tentacle of the San Jose Jazz Summer Fest. Again, this is where urbanism, arts, history, jazz, literature, craft beer and espresso all converge into a cosmic nexus of sorts. On the East Side, columns on Veggielution and the new Viva CalleSJ event exploded off the page, right here, in this very space. Over in Japantown, a brand new film festival took over a community center. Awesome stuff across the board.
None of this was limited to San Jo. Santa Clara was home to smashing good digs at Studio Bongiorno, which hosted yet another landmark conversation with former Rolling Stones tour manager from the Altamont era, Sam Cutler. He and Joel Selvin provided more entertainment than anything at Levi's Stadium. Los Gatos also came back into the forefront with coolness at NUMU, a rocking brand new venue with nothing but a rocking future.
Everything seemed to come full-circle this year, especially sports. One of the world's richest clubs, Manchester United, came to town and played a practice match against the San Jose Earthquakes. Avaya Stadium was mostly filled with ManU fans, as opposed to 'Quakes fans. It was like having the Rolling Stones show up at your little nightclub, along with all their fans, to essentially take over the whole venue. At least the 'Quakes made lots of money. I hope.
Even baseball wound up in this column. Masanori Murakami, the first Japanese player in the Major Leagues way back in the '60s, showed up in San Jose to promote his biography. In another case, legendary manager Dusty Baker wrote a music book. In both cases, SJ connections emerged in their stories. I didn't even have to try. It was already there. Regardless of subject matter, writing about someone else's human condition helps the columnist contemplate the San Jose condition. It helps the columnist find his own way home, all the while hoping he can inspire someone else in the process.
Most of all, Silicon Alleys reached a milestone in 2015. The month of April marked the 10th anniversary of this column—admittedly not much compared to some of my colleagues in this industry—but it made the anti-man-about-town reflect on a few things.
The urban blight exploration junkie, a primary highlight of earlier columns, did not seem to surface that much this year. While doing my own book events for seven straight months, there simply weren't enough duality-shattering adventures through the blighted interstices of San Jose, nor were there any international travel reports juxtaposed against the San Jose condition. Next year, I'm gunning for more intermittent communiques from both of those fronts, home and abroad. Way too many readers keep asking me to write more of that stuff. Admittedly, without the blight junkie's occasional perspective, a part of this column seems incomplete.
With that, onward and Happy New Year!