Features & Columns
Cannabis Dispensaries Blood Drive
Local dispensaries give back to community with blood drives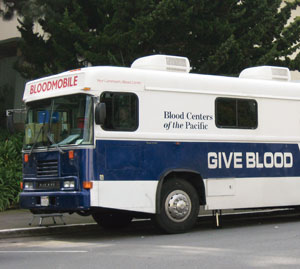 Last week, we used this space to discuss driving under the influence of marijuana. We're back to blood and driving this week, albeit for a different reason.
Two 40-foot mobile blood buses from the Blood Centers of the Pacific will park in front of MedMar Healing Center on Saturday, June 2, between noon and 5pm. Each bus will take blood from four people at a time for an average duration of 15 minutes per person, with a goal of turnstyling 100 people in and out of the buses.
The blood drive is part of a program Craig Bright, founder of the Human Renaissance Movement, organized in honor of Dr. Charles Drew, an African-American surgeon who pioneered blood transfusions and blood banks during the early years of World War II. Past collectives to hold blood drives with Bright's nonprofit organization include Holistic Pain Management Institute Wellness Center & Cannabis Buyers Collective and Natural Herbal Pain Relief (NHPR).
Doug Chloupek, president of MedMar, says his event isn't just trying to draw blood, though. MedMar also plans to attract donors by packaging the blood drive with a car show, arts and crafts vendors, two or three food trucks, and a concert featuring San Jose born-and-bred bluesman Maxx Cabello Jr. By the end of the day, blood and buds could both be taking a backseat.
Chloupek says he created the event with Bright, a family friend, after seeing the work he did with other collectives, which Bright says resulted in 220 blood donations from three drives. "He had worked with two or three dispensaries in the past on smaller stuff," Chloupek says, "but nobody in San Jose has tried to do something at this caliber and magnitude.
"The goal is to have about 300 people sign up at least, which will mean we can donate enough blood to save about 300 people's lives."
Lisa Block, the director of communication for Blood Centers of the Pacific, confirmed those numbers in an email. "Because most blood donations are subsequently separated in to three different blood components—red blood cells, platelets and plasma—a blood drive that collects 100 donations can help save up to 300 lives," she wrote.
The number of people disqualified from donating blood is on average about two-thirds, and included in the list of disqualifications are getting a tattoo in the last year, recreational drug use that involves needles and having sex for money or drugs since 1977. (Fair or not, being a sexually active gay man is also a disqualifier.)
Tattoo lovers shouldn't feel completely shunned, though. Realizing the year layoff required between donating blood after getting a tattoo, Ralph Hernandez, of Player's Ink, is offering customers a 20-percent discount on a person's next tattoo if they donate blood at MedMar on June 2. One thing that won't necessarily preclude a person from donating, however, is having THC in their system.
"The use of alcohol or cannabis on a recreational basis would not in and of itself necessarily prevent a person from donating blood if the donor otherwise appears healthy and is not intoxicated," William Hackley, an assistant director with the Blood Centers, wrote in an email. He added, "Not being intoxicated by any substance is to ensure that the pre-donation questionnaire is answered accurately and for the 'informed consent' to donate blood."
To register for the June 2 blood drive, call 408.385.9600 or go to www.bloodheroes.com and enter the sponsor code: medmar.