Features & Columns
F/X Reunion at Brix Nightclub
Club reunion's sixth edition revisits the infamous F/X Players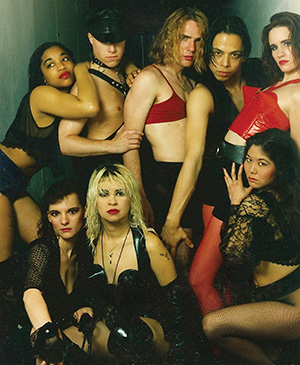 The Sixth Annual Black Friday reunion of San Jose's pioneering F/X nightclub will unfold the day after Thanksgiving, as usual. However, this year promises to be quite a bit different, thanks to a glittering reunion performance by some of the original F/X Players, who presented debaucherous live dance performances on stage at F/X. Once again, the reunion will go down at Brix on South First Street.
Now, some necessary history: During an era that now seems like the vanishing Wild West, F/X was part of the original SoFA District alternative music scene, when local and national touring bands gigged many nights a week, orchestrating a Bohemian substratum like San Jose had never seen before. Located in the former Pussycat Theatre at First and San Salvador streets from 1989 to 1995, F/X unleashed a visionary mixture of live alternative music and dance nights, plus film events, costumed affairs, biker nights, secret gay nights and a wide variety of mixed-up performance mishmash. One could simply go down to that corner on any given night and just find bands playing somewhere. A then-unknown Gwen Stefani, for example, would hang out on the sidewalk before No Doubt went on stage. This was back when not much nightlife existed downtown except for a few embarrassing meatmarket clubs. F/X was one of four rocking spots at that corner, the others being Cactus Club, Marsugi's and Ajax, all of which provided alternatives to the cologne-soaked frauds at places like D.B. Cooper's or Paradise Beach.
These days, a slew of dubious characters that originally frequented F/X reunite every Black Friday to dance, drink and temporarily revisit that particular era. But this time around, everything is turned up a notch, thanks to the first-ever reunion of the F/X Players, an in-house dance troupe of sorts that regularly performed at F/X back in the day. Original owner Fil Maresca, who spearheaded all these reunions on Facebook as early as 2008, said the presence of the F/X Players will ratchet up the silliness even more.
"The F/X Players were a big part of our identity," Maresca said. "Once a month we'd put on a show and there was music, costumes and rehearsals and lighting and special effects. We made it snow, we made it rain men, we had fun with concepts."
There were usually themed shows around every holiday, a Theater of the Vampire show on Halloween, an anti-Valentine's Day show in February, et cetera. The Players became part of the club's overall shtick. No other club in San Jose was doing anything remotely similar at the time. Many of the players went on to become professional performers or DJs and now they are getting back together and will perform at this year's reunion.
"They were part of what made the place a little weird and a little special," said Maresca.
Also on tap will be an ingenious re-creation of the notorious "front bar" at F/X. This also requires a quick history lesson. The old Pussycat Theater featured a candy counter that greeted customers upon arrival, just inside the entrance. You can still see it when you walk by the place, if you look through the front windows. The rest of the building was a porno theater once you got around the corners and into the main space. When F/X took it over, the facility blossomed into a live music venue with bands playing on the stage at the back of the venue, as well as a mid-level bar in the center of the venue. The candy counter was converted into "the front bar," catering to hardcores who didn't want to deal with the dance crowd inside and just wanted to get hammered, myself included. Now, this Friday, a core group of original bartenders from the front bar, as well as their original customers, will reunite for the sixth Black Friday. At Brix, the patio bar will be rechristened as the F/X Front Bar from 8-10pm. If someone actually drinks the spillage from all the bar mats at 2am and urinates all over the sidewalk in front of the place, then I shall deem it an authentic reunion.
F/X Reunion
Nov. 29