Features & Columns
Hempcon San Jose
The glorification of recreational medical cannabis use troubles some folks as Hempcon comes to San Jose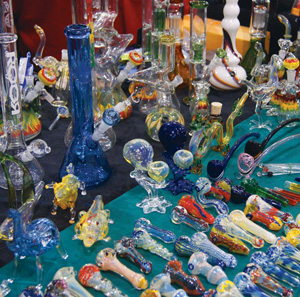 Chris Jennings cares about cannabis' past, which is just one reason why he remembers his first medical marijuana expo in 2008.
"It was on 4/20, it was at the Cow Palace and it was attended by the heavy hitters in the industry: the authors of books, the most prominent attorneys that have been working on these cases since I was a boy, and there were tens of thousands of people there from all over the western United States," he recalls. "That show was wall-to-wall people. It was loud. And it was exciting,"
The co-owner of Absolutely Wonderful Cannabis, Jennings sells cannabis bottles and jars collected from drugstores that administered cannabis in the 1800s. He and his wife Sandra, with whom he co-owns the business, have been to about 25 expos since this first one four years ago. "But I'd rather be at fairs," he says. "I'm a loyal supporter of the Hempcon people because—number one—they're still standing. They're organized, and they advertise well. It's a very comfortable place."
But as both federal and city governments shutter dispensary doors across California, the celebratory vibe has fizzled for some. "A lot of people are confused now," Jennings says. "They're disillusioned and they're scared to death because they had a legal business and invested a lot of money in them." Now businesses are being forced back underground, he says.
Amidst the turmoil, Hempcon remains a place where medical marijuana advocates can breathe freely. The expo, which comes to the San Jose Convention Center June 15–17, has been to San Jose four times since it kicked off in 2010. The medical marijuana trade show features guest speakers, live bands and a Prop. 215 area where qualified patients can browse dispensary offerings and "compassionately medicate."
But in recent years, some attendees have translated "compassionately medicate" to "smoke fat joints in the parking lot without worrying about the cops."
The idea of marijuana as an intoxicating substance smoked by slackers and rebels is a dated one, says Steve DeAngelo, cannabis activitst and director of Harborside Health Center. He says it's also an idea that hurts the medical marijuana cause, which is why Harborside chose to withdraw as a Hempcon vendor.
The expo environment, DeAngelo says, "is harmful for the work that we're trying to do to reduce the stigma surrounding cannabis and to treat it truly as a wellness product.
"Because cannabis has been illegal for so many years and a lot of the culture grew up 30 years ago—with High Times magazine and Cheech and Chong—there's this sort of cultural association with youth culture, with young people, and a lot of the expos that happen don't really pull many people over about 20 years old."
DeAngelo argues that the medical marijuana community is more diverse than the typical expo crowds of young men, who can be found lining up for doctor's recommendations or receiving samples from models in bikinis. This isn't about just Hempcon, though. Harborside has also chosen to withdraw as a sponsor from the International Cannabis & Hemp Expo.
"We market to consumers for the industry," says Hempcon organizer Tony Zee, acknowledging that his company, Mega Productions, supports the medical marijuana industry not as activists but as a professional marketing company. "Hempcon is open to the general public," he adds. "It's an act of free will. Anyone can come if they want."