Features & Columns
Memories of Jack Douglas
Recalling Jack Douglas, one of the last of a generation of great San Jose historians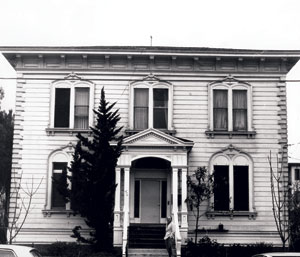 I cannot remember the first time I met Jack Douglas, the San Jose historian who passed away a few weeks ago at the age of 79, but it was probably at SJSU's old Wahlquist Library—right where the current Martin Luther King, Jr. Main Library now sits.
Jack ran the Special Collections room in that library. As an undergrad, I would often explore the massive quantities of old aromatic books in the various floors of that glorious building. Jack's place had all the secret stuff, seemingly.
The old Wahlquist Library was a crumbling relic of a place—in a magnificent way. Plaster intermittently tumbled from the walls, and it seemed like the elevators took five minutes to go up three floors. But the Special Collections room was a pristine oasis amid the ruins, where Jack kept track of so much historical ephemera that it was mind-boggling.
Unfortunately, you couldn't browse. Everything was located in the back, and you had to be sniffing for something in particular, pretty much like the current Special Collections room on the fifth floor of the MLK library.
Jack commanded an elderlike presence in that room. He was like the grand old man of local lore. It seemed like he knew the names of every faculty member who had ever taught at the university for 100 straight years.
It was not until much later that I would discover the books he himself had written about San Jose history. There were many. He penned a colorful taxonomy of characters and places, titled Historical Footnotes of Santa Clara Valley, and then just recently its sequel, Historical Highlights of Santa Clara Valley. Both of those volumes are jammed with crackpot yarns and forgotten stories. I've based several columns on info I originally learned from those books.
Another gem, a smaller paperback, Historic San Jose: Tales of Naglee Park, concentrates specifically on that neighborhood, its architecture and history, all of which go back to the 19th century. In gorgeous detail, Jack drills down into the histories of specific houses and the people who inhabited them, folks like Paul Masson and the first wife of John Steinbeck.
I still refer to those books all the time, and I will testify that they helped provide a foundation for me to find my own voice as a "crackpot historian," so to speak. It was in Jack's books that I first researched Astley (A.D.M.) Cooper, San Jose's most famous painter, who paid off his bar tabs with nude portraits of women.
Saloons up and down the coast carried Cooper's paintings. One local saloon keeper owned so many Cooper nudes that he named his watering hole the Louvre Saloon after the Louvre in Paris. Cooper died in 1924, and the Louvre Saloon was located at 53 N. First St. I would love to see that practice revived.
In any event, I did not even hang out with Jack until 2003, when he led a four-hour walking tour of downtown San Jose's historical buildings. I was easily the youngest one in the group, and I conjured up a screed in the July 3 issue of Metro that year.
Ever the cantankerous historian, Jack began the tour right where a restaurant exploded near First and Santa Clara streets in the early '60s. As the tour later crept down San Fernando, Jack told us the Cinebar was where all the left-wing SJSU faculty congregated in the late '50s and early '60s. Who would have thought that, a half-century later, one would see Frida Kahlo and punk bands painted on the walls of the place.
Over the years, I called Jack whenever I needed to fill in some obscure details on certain communiques I was conjuring up, and he always called me back. He was a treasured resource. After Clyde Arbuckle, Leonard McKay and a few others, Jack can be seen as the last of his generation of local historians. His are not easy shoes to fill.
Saturday afternoon, Jack's friends and family will host a public memorial service at Kelley Park. The stories will undoubtedly unfold. When Leonard McKay passed away, a celebration took place on the same grounds, with every old boy from every network making an appearance. The Ancient and Honorable Order of E Clampus Vitus, a.k.a. the Clampers, even brought their own Budweiser truck. For Jack's memorial, I do not know what will happen, but it will be historic.
History San Jose
Saturday, 2-4pm
408.287.2290