Features & Columns
KFJC: Month of Mayhem
Foothill College's eclectic KFJC radio station celebrates a month of sheer sonic freedom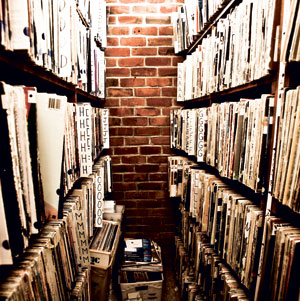 This month, the sonic heroes at KFJC-FM (89.7) are programming their 32nd annual Month of Mayhem, a sordid menagerie of delightfully self-indulgent special programs that unfold all month long.
This eclectic station at Foothill College celebrated its 50th anniversary a few years ago, and the Month of Mayhem is always one of the highlights of the year. For 2012, the station will present specials on Hank Williams, the Rova Saxophone Quartet, Fela Kuti and John Cage. And that only scratches the surface. Throughout this month, almost 60 specials will go down.
For me, KFJC represents everything that college radio is supposed to be. That is, there are no Tom Shane commercials, no authoritarian formats and no mercy. If someone wants to play children's music from the '50s, followed by Yanni at the wrong speed, followed by a death metal band called Regurgitated Cattle Fetus, he or she is more than welcome to do that.
As a listener, one gets a fun glimpse into the DJ's head and some insight into the DJ's own twisted tastes. That's right—there's an actual human creature choosing what music gets played. What a concept!
With such a station, no expectations are possible or necessary. Listeners tune in precisely because they don't have any idea what will happen. That's why they listen. While the more mainstream folks might crave predictability and need their favorite hit songs repeated over and over again between insurance commercials, a KFJC fan is a natural iconoclast who despises such soul-sapping mediocrity.
I first discovered KFJC around 1985, and it changed my life for the better, so much that I can't even begin to estimate its influence. Thanks to KFJC, I learned how to purge the tortuous habituation effects of commercial radio and abandon all delusional expectations of what song should come next.
As a result, my musical taste matured, my life became richer and I discovered entire new realms of sonic possibilities. I developed much more appreciation for bands that prioritized constant change and exploration over those who insisted on releasing the same type of music for years and years.
In that sense, nowadays when I write a story on esoteric Buddhism, followed by a column on industrial wastelands, followed by a column on networked-computer art installations and then one applying Deleuze and Guattari to dive bars, I can definitely trace the influence back to KFJC. If I had to write the same stuff over and over again, serious depression would ensue.
This Month of Mayhem KFJC brings us yet still more eclectic programs. Futurist Music and the First 100 Years of Noise (May 17, 7pm) will concentrate on Luigi Russolo, who wrote the now-heralded The Art of Noises in 1913. He built his own noise machines, thus adding a sonic component to Italian Futurism, officially the first art movement to use propaganda as a weapon.
Any manifesto must declare the end of something else, and the Futurists wrote lots of them. Futurist painters and sculptors worshipped the dynamism of the industrial world and advocated the overthrow of just about everything.
Another Mayhem special will focus on Tiny Tim, one of the most ridiculed and misunderstood musicians of the twentieth century. Many probably do not know that Tiny was a respected musicologist and expert in early-20th-century song. His encyclopedic knowledge was impossible to contain.
During Mayhem, we will also experience tributes to Dutch techno, the Hammond B-3 organ, Sun Ra, the spoken word and even the saxophone's role in surf music. All that in one month. Throw in free improvisation, Welsh crooners and sludge metal and you've got one merry, merry month of May.
Perhaps most importantly, there will be a celebration of the late Jack Diamond, one of the all-time greats at KFJC, who passed away in 2010. About 20 years ago, Diamond introduced a whole new generation to what became revitalized as "space-age bachelor-pad music.' He also featured tiki, lounge, exotica and anything appealing to connoisseurs of high camp. He will be dearly missed.