Features & Columns
Lost and Found
Josh Marcotte, of Lost San Jose, brings a new perspective to his urban images for a show at the Usuals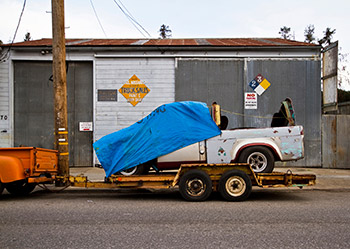 FOR MANY YEARS, the stretch of The Alameda extending east from the intersection of Race Street toward downtown San Jose could have been described as lost. It was a wasteland of decrepit roadside motels, empty retail storefronts, vacant lots and the occasional wandering transient.
All of which is why Josh Marcotte found the area ripe for shooting images. Two years ago, his photographs comprised the first official art show at the Usuals, a new clothing boutique on that exact stretch of The Alameda.
For that show, Marcotte exhibited photos of what the street used to look like, as well as its immediate surroundings. He presented shots of Plant 51 as it first morphed into condos and also the building that occupied the vacant lot now perennially slotted for Whole Foods. He captured Henry's Hi-Life and other legendary buildings.
Now Marcotte will exhibit more photos at the Usuals, beginning with a reception this Friday, featuring music by Seabright. Still under the nom de plume of Lost San Jose, his photos and work continue to depict the eternal cycles of creation and destruction that have characterized San Jose for decades. (His website is www.lostsanjose.com.)
When he first began to exhibit his photography, Marcotte concentrated primarily on the world-class San Jose landmarks we natives know and love: the statue of Babe the Muffler Man, the neon dancing-pig sign at Stephen's Meat Products and the time-forgotten thoroughfare of Monterey Highway.
Now his work is maturing. Marcotte explains that instead of concentrating on actual icons, he is beginning to develop his own personal relationship with the lost stories of San Jose's landscape as a whole.
"My work has evolved to not just documenting the historical and fantastical side of Silicon Valley but to the everyday," he says. "The emptiness, the sprawl, the clutter, the abandonment and also the people that wander these places. And I've also turned the camera on myself. I'm documenting my reflection and my shadow, out playing in the city streets, seeing the portraits as they come up."
Marcotte started this endeavor years ago, writing down his interpretations of what was left behind by the San Jose Redestruction Agency, while simultaneously taking amateur shots with throwaway cameras. He never imagined an audience that would identify with his perspective. After all, most people here seem to feel satisfied with chain restaurants, uniform condos and stripmalls. To most, this appears to constitute enough of a sense of place, so why explore any further than that? Why would anyone possibly be interested in historical architecture, crumbling ruins, local history and the stories beneath every rock and pebble?
"At one point, I just started putting these things online, and I didn't know if anyone would ever see it, or what the reaction would be," Marcotte recalls. "But people really connected with the project. They understood it from a historical standpoint, from a preservation standpoint. Some people saw the humor in the images, the odd day-to-day things you find when you take a minute to stop and look around. I was surprised at just how encouraging and supportive everybody was, that people understood the passion I have, and that other people shared that same passion."
As a result of Marcotte showing his work, other photographers began to contact him and swap clues to other hidden locales throughout the ruins of San Jose's underbelly—a universal quest, it seems, to locate forgotten stories between the cracks. His work has inspired others to explore and document and research the history of this landscape. A blight-junkie revolution is brewing, whether mainstream San Jose realizes it or not.
Over at the Usuals, they are selling shirts depicting the old Hart's Department Store. A new generation of locals is discovering the history of this town. Operated by a native San Jose brother and sister, the Usuals has helped spawn a minirenaissance along The Alameda. They sell a variety of goods for young urban folk. All the T-shirts and jewelry are by local designers. The clothing line is mostly from West Coast designers. The art exhibits go down once a month.
"They give the artists a lot of control as to what goes into their show," Marcotte says. "They pretty much let you do what you like. They encourage you to be creative."
LOST SAN JOSE
June 22—July 26