Features & Columns
Out of Character:
Decoding Chinese Calligraphy
Jerry Yang's Asian art collection inspires creative thoughts of how East meets West in Silicon Valley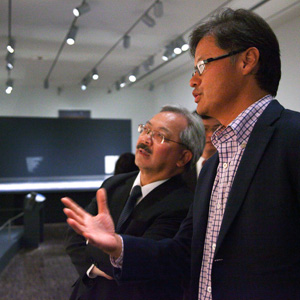 The anti-man-about-town is noticing yet another trend across the Silicon Valley landscape: high-tech entrepreneurs who collect Asian art. We've seen this with Oracle's Larry Ellison and his bazillion-dollar Japanese house and art collection, but another scenario has now floated up from the depths.
Yahoo co-founder and Piedmont Hills High School graduate Jerry Yang has loaned his collection of ancient Chinese calligraphic works to the Asian Art Museum in San Francisco. The show, titled "Out of Character: Decoding Chinese Calligraphy," encourages visitors to "find the drama beneath the surface." That said, I sense a growing East-West co-fluency in Silicon Valley.
At the VIP opening, Yang did not take questions from the press. Instead, he brought prepared questions and interviewed himself at the podium. Behind him, as he spoke, the audience viewed a blown-up version of The Sutra on the Lotus of the Sublime Dharma by Zhao Mengfu (1254-1322), one the ancient calligraphic scrolls included in the exhibit. Later, San Francisco Mayor Ed Lee rolled in from across the street, and the two characters, Yang and Lee, proceeded to view the exhibit.
Speaking of the show, much drama does exist beneath the surface. Even if one can't read Chinese, one still experiences a sublime, multilayered art form. In short, Chinese calligraphers try to express the strength(s) of their character through their painted characters.
Specific rules dictate the brush strokes and the characteristics of the scripts. Different types of paper respond differently to the ink or the brush. Somewhere between poetry and choreography there seems to be an elaborate network of correspondence connecting the various components of the process. What you see on paper is just the final result, the evidence, of an artful life.
As I experienced the show, I kept dwelling on the phrase "find the drama beneath the surface," primarily because it describes my view of how everything unfolds in Silicon Valley to begin with. Yang is someone who grew up in east San Jose of Asian descent, founded a major component of the Internet and made a fortune in the tech industry—but finally wanted to reconnect with his own culture and simultaneously give back in the process. I would like to see more tech entrepreneurs collecting Asian art and contributing something to culture besides database management or Western hierarchical categorization of everything.
On the surface, maybe this is superficial, but when drilling down deeper, there must be somewhere else this idea can go—some other way Silicon Valley can benefit. There must be a way to take it further.
Since Silicon Valley constantly reinvents the future and since people around here are always scheming the next big thing, I just couldn't help but ask longtime Silicon Valley strategist Sheridan Tatsuno what he thinks about entrepreneurs loaning out their Asian art collections. As a futurist and someone who's lived in both the Eastern and Western realms of Silicon Valley, Tatsuno said Yang might be a trendsetter.
That is, within seconds of talking with Tatsuno, the muse of business development took over our conversation, spinning it in an entirely different direction—into a philosophy of matchmaking. Unlike what you see on reality TV, parts of Silicon Valley are filled up with single engineers who've made a fortune working 70 hours a week, yet they're socially inept, they live in blank-walled houses with no interior decoration, they still don't have girlfriends and they could definitely use some instruction in art collecting.
"Asian Art for Entrepreneurs 101" could be the new wheel hub for single twentysomething engineers. The target audience is much larger than you realize, believe me. Think about it. This would serve many purposes. For one, it would teach left-brain engineers how to appreciate the artist within every single one of us. It would also help reinvigorate the floundering world landscape of art collecting. If this sounds crazy, it probably is, but I can think of many other Silicon Valley ideas that were initially written off as nonsense. Can't you?
Just like Chinese calligraphy, things always exist beneath the surface, suggesting that everything is indeed connected. As Goethe once said: East and West can no longer be separated. Silicon Valley is leading the world. Again.
Out of Character: Decoding Chinese Calligraphy
Runs through Jan. 13