Features & Columns
Remembering Frontier Village
A new picture book evokes the heady days of Frontier Village,
San Jose's beloved amusement park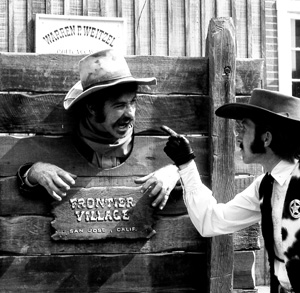 Frontier Village was the greatest amusement park in the history of the San Jose universe. So much so that ever since it closed in September of 1980 former employees and fanatics have congregated, traded stories and reminisced. A Facebook group, Remembering Frontier Village, bubbles with activity and the lurid yarns continue to surface.
For those who weren't there, Frontier Village was a Western-style theme park with staged gunfights in the streets, a Victorian-style train station, the Silver Dollar Saloon, animal games, kids' games, water activities, a train ride, a roller coaster, magic shows and all sorts of "cowboy and injun" shenanigans.
You'd see mock shoot-outs with guys falling off roofs and crashing through windows. Celebrities who visited the place included Lorne Greene, Bing Crosby, Nat King Cole, Tennessee Ernie Ford and vice-presidential candidate Hubert Humphrey.
Epstein and Washington from Welcome Back, Kotter even gigged at Frontier Village. In short, if you thought Palo Alto never recovered after losing the Barbie Museum, well, San Jose never really recovered after losing Frontier Village. The place just ruled.
Now, thanks to Bob Johnson, a retired librarian who ran the California Room at the Main Library for years, a new Frontier Village photo book has emerged from Arcadia Publishing. More than 120 pages of black-and-white shots illuminate the 20-year story of the park, from beginning to end. Allen Weitzel, who worked at Frontier Village from 1966 until 1980, wrote the foreword.
Johnson has already compiled two photo books for Arcadia, one on San Jose's historic downtown, which I praised in this space years ago, and another, a postcard history of San Jose, in 2010. He says the idea for the Frontier Village book originally emerged when he was doing the postcard book.
"Included in there were about a dozen postcards from Frontier Village," he recalled. "The people that saw and read the book, those were the postcards they most remarked upon, most talked about. So I knew there was a reservoir of interest out there, and I knew the California Room had a good collection that would form the basis of the book. So, after many months of thinking and thinking and thinking, my wife encouraged me to start it."
The book took eight months from conception to sending it off to the publisher. Throughout the process, Johnson says he discovered legions of former employees and attendees, all with fond memories.
Originally, Frontier Village opened in 1961 at what's now Edenvale City Park. At that time, there wasn't much else in the surrounding area, except the Hayes Mansion. Even though Frontier Village enjoyed immense popularity, the emergence of Great America, combined with the real estate greed of suburban developers eventually forced it to close in 1980.
Chapters in the book highlight multiple facets of the entire place. "Good Guys, Bad Guys and Fall Guys" includes multiple shots of the staged gunfights in the streets that were so common. "Costumed Characters" features legends like Theodore the Bear, Tumbleweed and Kactus Kong. "Indian Island" concentrates on one section of the park that showcased crackpot Native American-themed amusement on a man-made lake.
Frontier Village, above all else, was about the people and the employees. The "Village People," chapter presents photos of teen pageants, bicycle events, weddings and other community affairs. And in the introduction, Weitzel tells of the rigorous screening and training processes the workers had to go through.
"Even 30 years later, people still remember Frontier Village," Johnson said. "People who worked there told me it was one of the best experiences of their lives. They learned so much about business, customer service, working with people, and that it was good family. It served families, but the workers were also part of one big family."