Features & Columns
San Jose Blues Week
Clubs from all over the valley line up to be part of this year's Fountain Blues Festival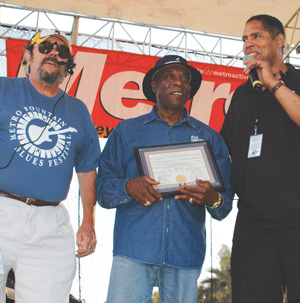 If one contemplates the San Jose condition through a combo of opposites—luxury and the gutter—then San Jose Blues Week makes all the sense in the world. Radio personality "Chef Ramon" Johnson of KSJS-FM (90.5) launched Blues Week in 2005, and after a one-year hiatus, the weeklong celebration of all things blues returns as you read this, with venues and gigs scattered throughout the underbelly of the valley all week long.
Culminating in the 32nd annual Fountain Blues Festival presented by Metro this Saturday in St. James Park, Blues Week will attract fanatics from all levels of the social spectrum: luxury types and gutter snipes.
This year, Chef Ramon has orchestrated a magnificent multiplicity of music for all to experience. If everything went as planned by presstime, the opening-night madness took place on Tuesday, July 10, at Johnny V's, a glorious dive bar on the least-fashionable, emotionally emptiest block of Santa Clara Street, between First and Second. If any stretch of downtown San Jose exemplifies the blues, it would be that block.
This Saturday, following the main festival, the official pro-jam afterparty will transpire at a polar-opposite venue: the Fairmont Lobby Lounge. A new martini bar is currently being installed as I write this.
Everything else occupies a space between those polar opposites. Poor House Bistro will feature music and events all week long, including the legendary Ron Thompson on Wednesday (July 11) and Chef Ramon's annual Talking Blues discussion and conversation on Thursday, from 6 to 9pm.
A Perfect Finish Wine Bar, San Pedro Square Market and even the Caravan Lounge will offer music in conjunction with Blues Week, even if the bands aren't entirely blues-related. Everyone supports the idea of people actually having live music wherever they go, not just within a pair of headphones as they walk down the street. Blues Week should be a destination concept, not just for locals, but maybe even someday for those blues fans who attend festivals everywhere.
"I have this vision for our city, and instead of sitting back and bitching about it, I actually want to try to do something tangible," Chef Ramon told me. "In this case, I have a certain vision of our city embracing live music and San Jose becoming a music destination like Seattle was, Austin, Nashville, Memphis and, yes, San Francisco, the city that has always given San Jose a complex. As someone who has been in San Jose since 1963 and sometimes found this city wanting, I think of something I believe Gandhi said, and that is, 'Be the change you wish to see in the world.'"
If there exists a blues equivalent for "Hallelujah" or "Amen," please insert it after that last bit. It may help, as Chef Ramon's passion for the blues and its benefits for the community is such that he may not even be able to pay his phone bill after this whole thing is over. His out-of-pocket contribution to the affair is significant, but he also claims that San Jose City Councilmember Sam Liccardo was instrumental in helping to pull things together.
Most of all, Blues Week is not just local to downtown San Jose, in case that neighborhood just isn't your thing. More venues have now been added throughout the valley, enabling live music fans to participate and support the cause. The Cats Restaurant and Tavern, that historical venue right off the freeway in the cold green shadows of the Santa Cruz Mountains, will participate in Blues Week for the first time. And over in one of the more concrete industrial arrondissements of Campbell, the Grand Dell Saloon will host several acts. All in all, more than 15 venues are showing their support.
But Chef Ramon is not stopping after this week. He has grand plans for the long haul. In addition to various Blues WeekŠaffiliated events throughout the rest of the year, he plans to ratchet up the awareness. It will take an effort, but he is up to the cause.
"The long-term thinking would be to have San Jose be almost like a Memphis West," he says. "Where you walk down the street and blues is coming out of every restaurant. Clubs that don't traditionally play the blues would all come together, where, if you were a blues fan, you'd go, 'Hey, I want to go to San Jose because there's something happening there.'"