Features & Columns
Thai Tastes
A journey to Thailand's Songkran Festival includes some hands-on culinary instruction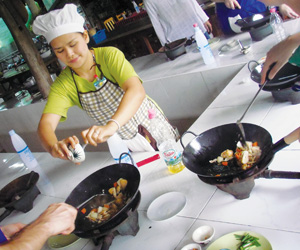 ON A RECENT tear through Thailand for that country's Songkran Festival, its traditional New Year celebration, the author took in the searing heat, gave offerings to monks in saffron robes and infiltrated a multisensory cooking class. As with most travel, he returned with a heightened sense of awareness.
For Songkran, everyone throws water at each other in a festive spirit. People line up on the streets to hurl buckets or shoot water cannons, especially at foreigners. Even the monks bless people by sprinkling water.
For those who want to learn the local cuisine, tourist-driven cooking classes are the rage in Thailand, with several varieties available. In some instances, a family simply opens its kitchen for prearranged groups, while other institutions offer professional settings with cooking stations spread throughout an entire backyard.
In a suburb of Chiang Mai, the Baan Hongnual Cookery School offers the latter option, in a Lanna-style teak house. Guests learn how to cook four different dishes throughout the course of an entire morning or afternoon.
In our case, two women, our cooking teachers—Phantanan Jala, a.k.a. "Pam," and Siriporn Wongin, a.k.a. "Por"—first took us shopping at a local market, where we got a chance to buy galangal root, kaffir lime leaves, tamarind sauce, radishes, peanuts, chiles, holy basil and more. We were the only foreigners present at the market, located on a suburban side street. The facility even included an elaborate butchery room, where several older women sliced up piles of meat left and right. Everything seemed to be run by women.
Upon arriving at the Baan Hongnual compound, Pam and Por provided us with tea made from pandanus leaves—a perfect intro. We then received the lowdown on the four dishes we were going to cook: (1) Pad Thai, (2) Tom Ka Gai—a coconut chicken soup, (3) stir-fried chicken with cashew nuts and (4) a dessert of pumpkin and coconut milk. Participants are to cook one dish, eat it and then move on to the next one.
Next came step-by-step hands-on instructions for each dish, beginning with the easy method for crushing garlic with a knife and running all the way to composing the final product. Each person manned his or her own cutting board and prep station, before migrating to a cooking setup, replete with a wok, vegetable oil, water, receptacles for ingredients and all the essentials.
"Do you want to know how to cook delicious food?" asked Pam. "Be happy and smile."
And that's what happened. She grinned from ear to ear and cracked up laughing at nearly everything we said. Pam also explained that she currently rents a room at Baan Hongnual while she continues to study English at Chiang Mai Rajabhat University. During the high season, the house operates two classes a day, one in the morning and one in the afternoon.
Throughout the lesson, aromas filled the atmosphere. For dessert, the pumpkin soaked in the coconut milk as the fragrance saturated the air. Everyone ate too much.
Baan Hongnual also features a garden with several herbs and fruits: pandanus, lichee, papaya, galangal and more. Some classes include picking herbs from the garden rather than going to the market, but the market is by far the way to go.
As always, I relate everything to my own landscape, even by chance occurrences. A few days after my return, in the throes of jet lag, I ad-libbed my way into House of Siam in downtown San Jose for some lunch. In what can only be described as a meaningful coincidence, I wound up sitting right next to two Buddhist monks in saffron robes.
The scene looked exactly like what I had just left in Thailand. I even had 100 Thai baht of currency still left in my wallet, which I offered, via the proprietor, to the monks. Affiliated with the Thai Temple in Fremont, the monks were on their way to City Hall to receive a ceremonial proclamation from the San Jose City Council for Songkran. It was a splendid way to return home, further reassuring me, as Buddhists claim, that everything is connected.