Features & Columns
"Phelan Groovy"
In search of bracing blight, the author takes a lonely walk down San Jose's Phelan Avenue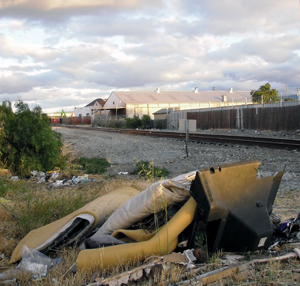 THE Urban Blight Exploration Junkie could not stand the isolation and loneliness anymore, so he relapsed yet again. This time it was the wasteland just south of Spartan Stadium, in particular, the industrial hullabaloo characterizing the celebrated avenue of Phelan.
Named after James D. Phelan (1861-1930), one of the most illustrious contributors to cultural life our valley has ever known, the street bores through an area devoid of pedestrians. No one of sober mind would possibly travel these parts on foot—perfect for the Blight Junkie to relapse.
Phelan himself was a legend. Born in San Francisco, he served three terms as mayor of that city at the turn of the 19th century and was instrumental in the rebuilding of parts of it after the 1906 earthquake. He served a term in the U.S. Senate, from 1915 to 1921, and was a member of the conspiracy-theorized Bohemian Club, an association that inspired him to organize San Jose's equivalent group, the St. Claire Club, and erect them a building at Second and St. James streets. The club and the building still exist today.
A poet and patron of the arts, Phelan built and lived at Villa Montalvo in the Saratoga Hills, now known as Montalvo Arts Center. During his time there, he hosted numerous artists, writers and philosophers. In his will, he deeded the entire property to the people of Santa Clara County, instructing that it forever become a center for arts and culture. He also built San Jose's first opera house, the Victory Theatre on North First Street.
It doesn't stop there. Phelan was a mainstay at San Jose Teachers College, (now SJSU), where his legacy remains intact. Aside from bequeathing the land on which Spartan Stadium was built, Phelan also endowed literary awards that still exist today. He was also an overt racist who encouraged anti-Asian exclusionary laws and campaigned to "keep California white." I guess no one's perfect.
With such notable history ingrained in his psyche, the Blight Junkie began his bender at Kelley Park, where Phelan dead-ends near a complex of cookie-cutter condos with a stereotypically suburban name: Springbrook. From there, the architectural highlights along Phelan between Senter and 10th began with the Santa Clara Valley Water District sandbag-pickup station. The six RVs parked across the street looked like they had been there for decades. Corrugated metal warehouses, cement contractors, roofing supply outlets and few graffiti-stained cargo vans dominated the scene.
The Blight Junkie couldn't stop at that point. Continuing from 10th along the Avenue of Phelan, tubing, PVC pipes, a muffler shop and a legendary tortilla chip factory held court. What a scene. From there, Smith Avenue (I don't know its history) dead-ends south into yet more corrugated structures, auto shops, collision businesses and transmission-repair places. The dusty landscape was flat, the sun beat down and everything seemed to go on for miles. But the Junkie didn't bother with Smith Avenue—he was "Phelan groovy" by this point.
An empty house, two semi-trailers, an abandoned forklift and a closed flooring supply yard later, Seventh Street emerged like a breath of stale air. At that point, the Junkie could have gone south to the UPS warehouse and Frank's Tractors, but he ignored the temptation and persisted down Phelan into more graffiti-stained cargo vans, a paint company, a brake shop and straight up to the railroad tracks. There are so many pieces of tracks in this part of San Jose, it's impossible to even remember which ones are still functional.
At this vivid wasteland intersection, the Junkie finally caught sight of other pedestrians. A man in a torn-up green sweat jacket hobbled along the tracks, with crutches, and made his way off into the southern horizon. Looking the opposite direction, toward downtown, a man and a woman weaved and bobbed their way into the distance. Just past that point, Phelan ends at Monterey Highway, providing a blurry-eyed view of the Pick 'n' Pull and the decrepit Casa Linda motel—two legendary San Jose establishments, to say the least. The Blight Junkie will eventually go back on the wagon, but the Avenue of Phelan will eternally exist as a trigger for relapse. He must beware.