Features & Columns
Fly Zone
A tour of Mineta San Jose Airport reveals a range of upgrades for safe travel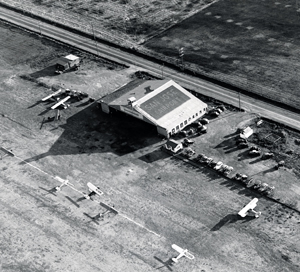 JUST A FEW WEEKS ago, a group of journalists from out of town were given a private tour of Mineta San Jose International Airport, and I tagged along to join them. Since I've flown out of SJC quite a few times in the last 18 months, I cannot help but praise some of the recent upgrades and improvements.
Through the federal economic stimulus program, the Transportation Security Administration (TSA) awarded the airport $40 million in grants to help pay for systems and infrastructure improvement needed to properly implement CTX9800 baggage-screening systems.
These machines sit behind the scenes—passengers never see them—and they screen all the carry-on bags heading for the airplanes. San Jose is the only airport in the world that has these machines, and they have eight of them. The machines came straight from the assembly plant. When SJC received them, there were only nine in existence. The other one was in TSA's testing lab.
After entering the employees-only area, we observed the room-size screening process in action. The baggage explosive-detection systems include conveyors that move checked bags through a dazzling array of automated screening machines, with additional conveyors to move screened bags for staging for aircraft loading. TSA owns the machines, but the airport owns and operates the conveyor belts on both sides of each machine.
The CTX9800 machines help streamline the process, reducing the number of human employees who need to touch the bags. As a result, each system—one each for Terminals A and B—has the capacity to screen approximately 1,800 bags per hour. Again, the bags arrive at the plane as the passengers do, so they never even see this process. These new machines replaced 28 older machines.
Completed five months ahead of schedule last year, the new rental-car facility streamlines quite a few factors previously irritating for everyone involved. Now located directly across the street from Terminal B, it's probably the most convenient rental-car setup of any airport in the country. Customers no longer take a shuttle to the middle of nowhere to get their rental car and the rental companies no longer have to drive the return cars somewhere else in the airport to get cleaned up and refueled.
In what they call, "Stacked QTA," SJC has the first elevated quick-turn-around (QTA) facility to open at an airport in the United States. The tri-level indoor elevated gas station is quite a technological and engineering accomplishment, allowing all 10 rental companies to wash and gas up their cars on site in order to return them to service more efficiently. It's also the largest gas station in San Jose. Huzzah!
Other new components of the airport popular with passengers are the award-winning public art projects, new faster WiFi and even newer rows of powered seats. That is, entire sections of seats are now equipped with AC power and USB ports. Frequent travelers will tell you it's a massive improvement over having to fight others for plugs and/or sit on the floor to power your laptop.
If you think the grand total of $1.3 billion for all improvements is ridiculous, you're probably right, but it was over three times that much at first. This is not a new story, but several major components had to be shaved off the $4.5 billion-dollar original plan, scaling it down to the final version we see today. The original plan would have destroyed Terminal A completely. There was going to be a double-decker roadway and a gate-to-gate people mover.
On a hysterical side note, according to the original plan, the rental-car facility was slotted for the old FMC property across Coleman Avenue—right where the San Jose Earthquakes are now gearing to build a soccer stadium. Quakes fans and Major League Soccer have airport director Bill Sherry to thank, as he oversaw about 80 people who hammered out a scheme to chop the original plan down to $1.3 billion, which included putting the rental-car facility in a more logical place.
During our tour, journalists suggested a before-and-after display, showing visitors the old Terminal C before it was destroyed. I'll go even further than that. People should see the airport back in 1936, when it resembled a hick-town garlic stand on King Road. (See photo.) Man, have we come a long way since then. Go Quakes!