Features & Columns
Keys to Success
Upstairs from a Palo Alto pizza joint, young players learn the joys of music at the New Mozart School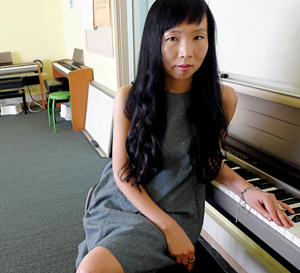 ON A SUNNY Palo Alto day, I am skulking inside Pizza My Heart on University Avenue, at the back of the restaurant, next to a stack of tomato cases. Christine Eunmi Shin unlocks a nondescript door and takes me up a wooden flight of stairs to a seemingly secret locale. The door appears legit—it says, "New Mozart School of Music"—but the entire scenario feels ultraclandestine.
From out on the street, no one realizes an 800-square-foot piano studio sits above the restaurant. No signage appears in the window. Both the pizza place and the cafe next door rent a space in the same building, but upstairs, above both, lies the original outpost of a music school Shin founded in 2004. As we ascend the staircase, chopping sounds from the cutting boards of Pizza My Heart seem to emanate from beneath us.
Originally from Korea, Shin grew up with four siblings, her father was a minister and she wound up in the Music Department at San Jose State University, beginning in the early '90s. While her cousins went to more prestigious institutions like Juilliard, she put herself through college while making enough from her piano students to pay the rent. She never originally had any plans to open her own music school. She says everything just unfolded in certain ways. Beginning with no business plan whatsoever, she winged it, learning the ropes as she went along.
"I feel like I'm an accidental entrepreneur," she tells me. "I didn't really have a big interest in wanting to be successful. I wasn't too happy teaching out of my own home and always practicing. I felt like I wanted to try something else. It was not what I expected. Being a business owner was way more work than I ever envisioned. It was a huge growth process. But as other schools came and went, I realized there was a demand for an idea like this."
When she first opened the spot above Pizza My Heart, it was all Christine. Bringing her 25 students along with her, she had a Kawai baby grand piano and a spinet moved up the stairs and into the studio. She acquired cheap furniture and the business was born. "I brought everything with me," she said. "I was the CEO, the CFO and the janitor."
Now, in 2011, the New Mozart School has two Palo Alto locations and 500 students. Many of them are quite young. Early-youth music education is now Shin's forte. "My focus has shifted," she explains. "When I began, I came from an artist's perspective. I offered classes that I personally thought were cool—I like flamenco, so I invited my friends to come and teach flamenco guitar—but at some point, you have to make a decision as to what's viable in terms of business."
The school's approach includes the Harmony Road group class curriculum, where students as young as three can learn keyboard skills, solfege singing, ear training, rhythm activities and, even better, improvisation and composition. Those last two are unique to the New Mozart School, since almost all other programs of early-youth music education brutally dismiss any creative component of the education.
Shin's story is inspiring because it doesn't conform to the normal path. She wasn't a business major. She went to music school. The business skills came later. "You cannot have all your ducks in a row," she tells me. "Whatever situation you're in, you make the best of it. If I had gone to business school, I don't think I would have ever started New Mozart. I would have realized how much work it was. And I would never have done it."
Shin lives with her husband and 9-year-old son in Los Gatos. New Mozart is still a brick-and-mortar business, but the children keep showing up for lessons.
"Being a mom and being really passionate about early childhood music education, I'm really glad we have trained teachers who focus on that," she says. "And we have kids from some really big-name families in Silicon Valley. I won't name names, but you'd recognize them."
All in all, it's a great place to practice polyphony over a pizza.