Features & Columns
Cambrian Era
A lurid past lurks beneath the sun-baked sprawl of the Cambrian 36 area in the wilds of San Jose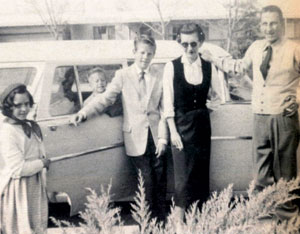 PART OF the human condition in San Jose, at least historically, involves decades of hick-town annexation spats, the most recent of which saw the sprawl kingpins at San Jose City Hall trying to bully the city of Campbell over the unincorporated "Cambrian 36" area.
San Jose basically wanted tax revenue from a 38-room hotel and a gas station on Camden, but residents living in the adjacent neighborhood didn't want to be incorporated into San Jose. They wanted to live in Campbell instead. After years of fighting the man, the residents won.
Cambrian 36 tips the scales at 103 acres, the southern boundary of which is Camden Avenue between Bascom Avenue and the freeway—an absolutely hideous stretch of road.
To save you all the trouble, I recently traversed that avenue for the first time in years. Aside from a few homeless dudes resembling Grizzly Adams and a bearded drunk having a loud conversation with himself at the Foster's Freeze, I was the only pedestrian in sight.
One of the most heavily trafficked, congested, fractured, patched-up, worn, beaten and downright ugliest stretches of wide-open concrete anywhere in San Jose, this portion of Camden is six lanes wide, but it seems like twice that much, with all the noise from semis, dump trucks, garbage trucks, roaring engines, car stereos and school buses. Sections of the street don't even have sidewalks. On the northern side, brand-new empty buildings sit right next to empty decrepit houses with weed-infested lots. There's an old auto stereo place, a carpet shop and a few gas stations.
In addition to the Foster's Freeze, the road is fast-food heaven, including a Wienerschnitzel, a Taco Bell, a Subway and a Jack in the Box. The camouflage-painted Sportsman's Supply bait, tackle and ammo shop has been there for decades. On the sidewalk in front of the place, the fake deer with the archery-supplies sign has also been there for decades.
As I sauntered my way down the road, the glaring sun beat down on the vast concrete landscape, since there's no shade anywhere. Fortunately, the area's only gem is the Royal Taj Indian restaurant—lunch buffet for $7.95 seven days a week—and it emerged like an exotic oasis amid the bland suburban topography. The egg curry was especially phenomenal.
Now, historically, Cambrian harbors great stories. About five years back, I released emotion in this very space about the most famous person ever to emerge from Cambrian Park: Susan Atkins. This is a fact every Cambrian Park real estate agent doesn't want you to know about. Atkins, a.k.a. Sadie Mae Glutz, member of the Manson Family and convicted murderer who died in prison two years ago, spent some of her childhood in Cambrian Park during the late '50s and early '60s.
In her now legendary autobiography written from prison in the '70s, Child of Satan, Child of God, Atkins, along with co-author Bob Slosser, talked a little about her time in San Jose. We see passages like this: "We moved into a good-sized but modest home in the suburban community of Cambrian Park near the Blossom Hills." And then later, this: "Our community sat right at the foot of the Blossom Hills, a part of the Los Gatos range. And our home was only about three and a half blocks away from those hills, rising gently to the east and covered with fruit trees and grape vines." It wasn't Cambrian 36, but it was close enough.
In that book, Atkins also writes that she became a regular at the Cambrian Park Baptist Church. Unfortunately, her mom passed away in 1964, after which her alcoholic father shuffled her off to Los Banos. A few years later she wound up in San Francisco, where she slept with Charles Manson—and the rest is history.
So perhaps the presence in Cambrian Park of someone who would go on to become one of the 20th century's most notorious murderers suggests that every neighborhood has its evil side, which leads us to the only rational conclusion, that the name Cambrian 36 probably harbors hidden significance. The sum of all integers from one to 36 equals 666, the Number of the Beast. That is, 1 + 2 + 3 + ... + 34 + 35 + 36 = 666. A math person would say, Sum 36 = 666. I'll bet that all the targeted unincorporated areas in Santa Clara County also add up to 666, which would mean the San Jose Department of Planning, Building and Code Enforcement is the Great Satan. Ave Satanas!