Features & Columns
On the Venue
A trip to Basel reveals what a great soccer stadium should be —can San Jose do the same?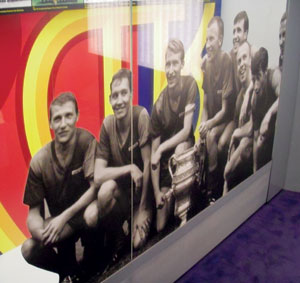 THIS TIME around, it took the city of Basel, Switzerland to provide interdimensional, space-time-continuum-shattering inspiration. I write in terms of soccer stadiums, that is.
In regards to the now, by the time you read this, the San Jose Earthquakes will most likely have passed a major hurdle in obtaining a Planned Development Permit to finally head toward the next major hurdle in achieving what most teams in the league already have: their own venue.
On Dec. 14, the San Jose Planning Director's hearing will include a consent item approving the construction of the new stadium across Coleman Ave from the Mineta San Jose International Airport.
A long public hearing took place last September in which a few people who live on the other side of the railroad tracks from the site in question voiced their concerns about extra noise and light pollution generated by the stadium. At presstime, documents from an acoustical engineering company were to be presented at the Dec. 14 hearing, demonstrating that the stadium design, including its noise profile, are consistent with the original Environmental Impact Report.
But back to Switzerland. A few months ago, as a guide took me around Basel, I insisted we segue over to St. Jacob's Park, home of FC Basel, the city's legendary football club since 1893. A new San Jose stadium was on my mind as we prowled around the outside perimeter of St. Jacob's Park—a large concrete behemoth of a facility. It was locked, and we couldn't get in. Everything was silent; it was Sunday and hardly anything was open, but we were able to gaze in wonderment at the empty 38,000-capacity stadium.
St. Jacob's Park, the venue, is attached to a shopping center and residential apartment complexes. Probably 50 shops make up the whole center, including restaurants, pubs, retail, video game stores, telecom outlets and much more.
The FC Basel Fan Store and Museum occupies a 600-square-foot space, which was open when we showed up. Filled with jerseys, banners, paraphernalia and more, the store also includes a section with historical photos, trophies and other tidbits related to the clubs' storied 118-year history. Families and tourists drifted in and out as we showed up to linger.
FC Basel's color scheme is half red and half blue, with yellow trim—many claim it inspired Barcelona's color scheme—and the entire stadium lights up at night. Half the building turns red and the other half turns blue. In fact, every component of the facility, straight down to the beer trailers, corresponds to that color scheme. It is a gorgeous venue to look at.
The stadium also has its own train station and sits right across the street from the city's hockey arena, which is also used for concerts. Basel's fans are thus notoriously loyal, inspired and raucous. Tennis legend Roger Federer, a Basel native, is one of the club's most fanatical supporters.
Just skulking around the empty St. Jacob's Park fired up the right half of my brain—you know, the one associated with creativity and the bigger picture, the imaginative dreamer half—and I easily summoned up visions of all the great things a new San Jose Earthquakes stadium will do for what should be the most authentic club in the league.
No other club's fans have amassed such a gargantuan collection of memorabilia and collaborated with their city's historical nonprofit to archive it all. In a league characterized by manufactured "flagship" franchises with no historical tradition, the Quakes, on the other hand, have a tradition going back almost 40 years, and the new stadium should reflect the club's history. No other stadium in the league does this. At least not yet.
With that in mind, just last week I found myself in one of downtown San Jose's soccer-safe-houses to watch FC Basel miraculously upset Manchester United, knocking them out of the UEFA Champions League. The game was played in Basel, at St. Jacob's Park, and the city went absolutely insane. The world watched that match, never expecting to see FC Basel advance to the Final 16. Having just been to that stadium two months ago and having enjoyed that city so much, I felt at least a minuscule connection to the celebration, if anything. The sport intertwines with the city, Basel's people, its cultural life, its history and so much more. The new San Jose soccer stadium—if it's done right—could unfold in just the same manner.