Features & Columns
South First Fridays and Cinequest
Build Creative Urban Synergy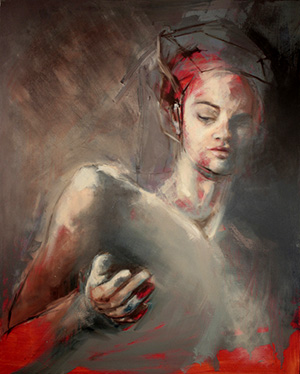 With Cinequest already bringing thousands of folks to downtown San Jose for numerous films, Maverick Award hoedowns and chic soirees, it seems appropriate that First Fridays will also erupt on March 7.
That means, for film buffs in need of downtime diversions this Friday, well, more than enough art shows and hijinks will unfold in a variety of locales around the neighborhood. That is not an invitation to bail on Cinequest; rather, it is a reminder that everything will be connected, as it should be. If you steal away into the guts of downtown this Friday, you will experience creative urban synergy by those actually making it happen, rather than the politicians who just talk about it.
But first things first. This concept of "connecting" is already one of the primary Cinequest memes this time around, to begin with. In particular, certain Cinequest peeps at the nightly meetups will be dispatched to officially "connect" attendees to other attendees. That is, they will informally introduce guests to each other, functioning as social-wingwoman-icebreakers of sorts, ratcheting up the interaction, big time. If you're one of those alienated, introverted and disconnected types who just stands there like a scarecrow at all the parties, unable to communicate freely, well, you just might be pleasantly strong-armed into a conversation with somebody interesting. Honestly, I love this idea. It sounds like some vanguard Ph.D. think-tank experiment at the boundaries of cognitive behavioral science, dynamic systems theory and artificial intelligence research. Leave it to Cinequest to fuse creativity and innovation. Awesome.
Outside the parties, as the moon rises in the sky, art shows will unfold everywhere, as they usually do on First Fridays. Over at WORKS/San Jose, for example, an entirely different type of connectionism will commence. Trina Merry's bodypainting emporium will present yet another magnum opus of human pastiches guaranteed to offend the morality police at Team San Jose, who just happen to be WORKS' landlords.
"We are doing some hilarious fun things for First Friday," Merry told me. "We are creating a giant Twister game that has paint on the circles. And an anatomically correct life-size Operation board where people pull out the 'bones' and place them on a living model, thus helping us paint them. We will have a special performance with bodypainted models forming a human skull. And, I think, we are offering chocolate nipples—actually cast from some of our models—to the first 100 people."
Merry's team will be creating bodypaint installations live for three weekends, Friday and Saturdays, March 7-22, with each performance different from the next. So before you catch a nighttime Cinequest flick in the opulent California Theatre across the street, get primed with live bodypainting first. Now that's creative urban synergy. San Jose should rebrand itself the "Bodypainting Capital of Silicon Valley." That would look a lot better plastered on all of our garbage cans than merely "Capital of Silicon Valley."
This Friday, live bodypainted models will also set up shop in certain empty storefronts, thanks to the Phantom Galleries project, although that's not the end of Phantom Galleries' collaboration with Cinequest. The two entities will partner via the festival's Live Art Contest to be held at the Camera12 Cinemas throughout the festival. Vamping on the "connect" meme, three artists—Jean Davis, LAuruS Myth and Avery Palmer—will paint live during the festival. Cinequesters will be able to vote for their favorite of the three.
Seeing Things Gallery, Anno Domini, Higher Fire Clayspace and Gallery, as well as Kaleid Gallery, will each have shows opening Friday night. Plus, the multitude of other galleries, institutions, coffee shops, restaurants, yoga studios and sliding door stores will highlight their own ongoing shows or events, all of which are a few blocks from the nexus of the Cinequest festival.
There's even a DJ competition. At South First Billiards, Cinequest will present three—DJ That Girl, DJ Shea Butter and The CME—who will compete for the chance to perform at the gala closing night spectacular.
All of this is designed to make connecting effortless and natural. I feel connected already.
MARCH 7; 7-11pm
Various venues in downtown San Jose