Features & Columns
Where the Heart Beats
Kay Larson's new book charts the confluence of East and West in the music of John Cage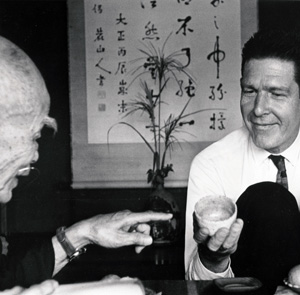 On Monday, July 30, East West Bookstore in Mountain View will exemplify the Japanese concept of ma, meaning "the spaces between," as Kay Larson unfolds her new book, Where the Heart Beats: John Cage, Zen Buddhism, and the Inner Life of Artists.
Many books have already attempted to explain Cage, one of the 20th century's most controversial composers, but Larson is the first one to concentrate on how Zen Buddhism empowered him to create his music, liberate his divided mind, reconstruct his character, remove personal crises, and thus allow him to transform the entire narrative of 20th-century art.
Her book occupies the spaces between previous books on Cage, meditating on the things he didn't say, providing a glimpse into life as Cage directly experienced it.
Cage (1912-92) was not necessarily the first American composer to fuse East and West, but his approach to remove all ego and intention from his art emerged directly from his exposure to Zen. As a result, his approach permanently altered the historic flow of several creative disciplines, including music, dance, painting, sculpture and newspaper columns.
Arguments about Cage and near-aggressive reactions to the things he said still rage today, but his role as a precursor to performance art, conceptual art, turntablism, installation art, minimalism, live electronic music and "Be-in"-style happenings, cannot be denied.
Today, anyone making sounds with turntables owes a debt to John Cage. Anyone choreographing a dance without an intentional narrative flowing through it owes a debt to the lifelong creative and emotional partnership between Cage and Merce Cunningham.
Larson was an art critic in New York for many years and also a Zen practitioner, which is why her refreshingly nonlinear, non-Western understanding of Cage works so well. She plots the arc of Cage's life as he discovers Zen and how it allows him to crack open his mind and show him a way out of his multilayered suffering, which then allows him to wake up and erase the mythical boundaries between art and life.
In other sections, Larson goes on to illuminate many artists Cage inspired in the process, but throughout the book, Cage's own voice—passages from conversations and lectures—appears in the text, as do passages from Zen teachers like D.T. Suzuki and Huang-Po. Unlike any previous author, she presents Cage's life as he experienced it, along with all the questions he asked, and presents his story as a classic spiritual path of suffering, realization and release from suffering.
Writes Larson: "Cage [had] been struggling with self-judgments, self-loathing, anxiety about his sexual identity, fear of being himself—yet a powerful need to be himself, too. The mystics of West and East have told him to look up from his four walls and see the sky."
She specifically tracks the influence of The Huang Po Doctrine of Universal Mind, and how it emerged in Cage's approach to indeterminacy and composing music without intention. From Huang-Po, "Cage saw the amazing potential of dwelling in the omnipresent, silent, pure, glorious, mysterious, peaceful joy of nonintention."
As he found himself at the epicenter of the mid-20th-century avant-garde, influencing and/or infuriating all those who flowed into the river he instantiated, Cage became a blueprint for disenfranchised artists everywhere. Larson, who studied Zen for years herself, appears to have taken up the reins with this book.
"I said to my husband that I was addressing three of the most esoteric of topics: the life of an oddball experimental composer, cryptic Zen sutras and the origins of the art avant-garde," she writes. "Yet the theme that unites them all—and that allowed Cage to open his arms to all of us and welcome us to a new world—was his realization of the path out of suffering. It's available to everyone. And it's transformative."
On Monday, East will merge with West at a bookstore in Mountain View, when Larson unfolds her book for the audience. We have John Cage to thank.
Kay Larson
Monday, 7:30pm
East West Books, 324 Castro St., Mountain View