Features & Columns
Cuddlefest 2012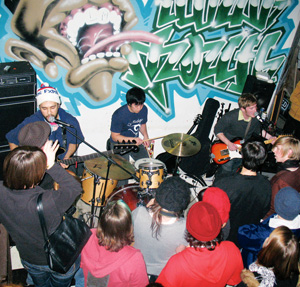 There have been upward of 20 "Cuddle" shows in and around San Jose since 2004, according to organizers, and yet the concert series remains mostly unknown to Silicon Valley music fans. The upcoming Cuddlefest 2012 at Dana Street Roasting Company on New Year's Eve holds true to a key element from the past editions: packing as many bands on the bill as possible. This year's show includes Shinobu, Pteradon, Leer, Slime Girls, Colossal Rex, the High Sea, Kill the Bats, Yulia, Butterfly Thursdays, San Francesca, Hard Girls and DJ Coco.
Initially, the Cuddle shows were loosely stitched together parties that bands Shinobu and Pteradon threw in the tiny practice space that they shared. "We settled on the name because the members of Shinobu and Pteradon at one point had no inhibitions about shamelessly cuddling and loving one another, and all we're invited to join in the cuddle action," says Bob Vielma from Shinobu.
By just rounding up all their friends, they'd cram enough people into the practice space that any notions of personal space were obliterated, making the show's name that much more fitting. Quickly, they started asking their friends in bands to play the shows, and they would come up with increasingly more ridiculous names, such as Cuddlestock, Cuddlechella and Cuddle Lilith Fair.
The more bands that Shinobu and Pteradon friended, the more eclectic the shows became. Some past participants include Phoenix folk-punker Andrew Jackson Jihad (who now draws several hundred people to his shows), Japan's Ging Nang Boys (who at the time drew 3,000 people in Japan), DJ Altair Nouveau (who was at one point signed to DFA) and rapper J-Tripz (a junior member of Tha Dogg Pound). "When J-Tripz played, he rolled up in an SUV with his album cover emblazoned on the side of the vehicle," Vielma recalls.
These days, Cuddle shows are more sporadic and no longer take place in the old practice space. Cuddlefest 2010, for instance, happened at Nickel City—and was packed. People that were part of the Cuddle scene back in the mid-2000s still remember the early years. The show the Ging Nang Boys played, in particular, stands out with everyone who was there. Local DJ Chris Rios, a.k.a. Demichild, recalls that show: "There were more than 50 people crammed into one room. Performers were in their underwear, drenched in greasy dressings of salty sweat, and foaming amounts of spit seeping out of every singer's mouth. In that room, we were all brothers and sisters who became one screaming, sweaty mess."
Monday, Dec. 31; 5pm; $5; all ages