Features & Columns
Holiday Gift Guide:
Literary Gifts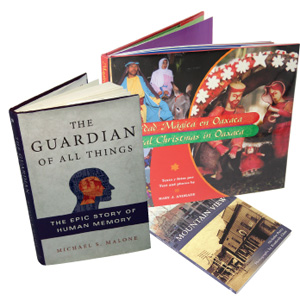 Unless you are dead set on giving a copy of Paula Broadwell's romance novel, All In: The Seduction (er, Education) of General David Petraeus, there are lots of local authors and topics to consider. One of the latest entries in Arcadia Publishing's series of historical picture books is Mountain View: Then and Now by Nicolas Perry and Kimberly Chan. Each page matches a current building in the city with an archive photo of the structure that occupied that site 50, 75, 100 or more years ago. One example among many: the site of St. Joseph's Catholic Church, founded in 1867 near Stevens Creek, is now occupied by a car dealership. Tempus fugit. Available for $21.99 at local bookstores such as Mountain View's Books Inc.
Readers of Metro are familiar with the sharp observations on local politics and technology of Michael S. Malone, author of the seminal Big Score: The Billion-Dollar Story of Silicon Valley. Malone's latest is The Guardian of All Things: The Epic Story of Human Memory (St. Martin's Press; $25.99). Not afraid of some long perspective, Malone looks at how humans have corralled and codified recollection, both internally and externally, over the course of 10,000 years. Again, be sure to visit a local independent bookstore before pumping up Jeff Bezos' stock options.
San Jose photographer Mary Andrade's images of Dia de los Muertos have been exhibited in the valley many times and collected in several books. She is also the author of Navidad Magica en oaXaca/Magical Christmas in OaxaCA, a marvelous bilingual volume chronicling the traditional rituals of the holiday season in the popular tourist destination—from radish figures to the parades and ceremonies of the posadas that precede Christmas Day. The book is published by La Oferta Review in San Jose; the Guatemalan Boutique in Los Gatos and Ay Dios Mio! in San Pedro Square Marketplace sell copies for a little over $20.