Features & Columns
Holiday Gift Guide:
Gifts for Foodies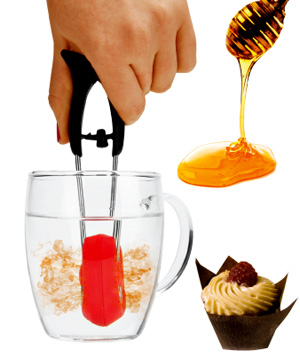 A tea lover would appreciate some loose-leaf choices from Satori Tea Company in San Jose, combined with the nifty Teafu appliance (around $15 at the Butter Paddle in Los Gatos). The tea goes into a silicone ball with tiny perforations; the hinged tongs push water through the leaves for a faster, fresher cup of tea.
To sweeten the tea, consider a jar of shimmering gold Willow Glen Honey. Locally harvested, the modestly priced raw honey comes from valley bees. Available at Three Sisters in Willow Glen or check the website (www.willowglenhoney.com).
The lovely decorator cupcakes at PolkaDotz avoid the problem of too many cupcakes: size, which leads to cakey dryness. These mini-cupcakes come with a variety of fillings and swirled cream toppings. The raspberry red velvet is like an ornament visually ... but much tasty. These would make great holiday party favors. They are $3 each at Polkadotz's new location inside the San Pedro Square Marketplace.