Features & Columns
Holiday Gift Guide: Gifts for Pets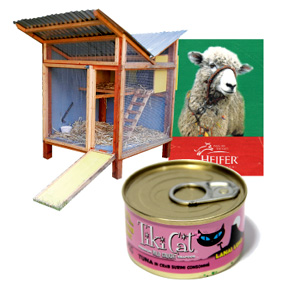 Most pets actually prefer the box a present came in to the present itself, but that doesn't lessen the pleasure of including them in the gift-giving festivities. The Gussied Up Dog Boutique in Willow Glen sports shelves of gourmet canned treats for cats that routinely snub vet-approved crunchies. The Tiki Cat "Lanai Luau" features tuna in crab surimi consomm. It's all-natural and sounds good enough for humans ($1.25 a can).
Clearly, the days when Samuel L. Jackson could dismiss a girl as "as country as a chicken-coop" are gone. "Eichler Houses for chickens" trumpets one fan of Just Fine Design's Chick-in-a-Box coop, a custom job that comes complete with water-catchment system. Chick-in-a-Box took an award at the 2010 Maker Faire; the design atelier is co-founded by Stanford grad Kevin McElroy (contact justfinedesignbuild.com for info and a quote). A brand-new spot for poultry-philes has opened in Campbell, called City FarmZ. In addition to DIY canning supplies, nifty greeting cards that come permeated with wildflower seeds (just bury and water) and edible treats like habanero honey, the story caters to serious urban homesteaders with feed and a selection of reasonably priced chicken coops in the $400 range.
The next time people start up about their chickens, squelch them: "Oh, all of mine are in Africa." The Heifer Project (heifer.org) will, in exchange for $20, donate a flock of hens to a hungry part of the world. It doesn't stop with poultry: the group sponsors goats, cows, oxen and even a scheme to raise "grass-cutters" (i.e., very fat cane rats) for food. The good work of the Heifer Project has been detailed in the excellent local documentary Heifer by SJSU professor Bob Gliner.