Features & Columns
Holiday Gift Guide
There are many kinds of gifts, as Mitt Romney tried to explain in the wake of his failed presidential bid. Inverting the arc of Ebenezer Scrooge's conversion from vulture capitalist to turkey socialist, Romney blamed the voters for being greedy.
For many, the best gift came very early—on Nov. 6. But the next six weeks or so represent a great opportunity to stimulate the economy and to indulge in the tiny sins of giving and receiving. And if 47 percent of us are takers, then the other 53 percent need some good ideas to keep up.
Metro's gift guide skews heavily to the local—presents, like food, should be harvested close to home, from local artisans and small independent stores (although we are not complete purists). Nov. 24, for instance, is Small Business Saturday, which is being celebrated in Willow Glen and other valley communities. On Dec. 1, from 11am to 6pm, SJMade hosts a huge fair for the area's artists and craftsmen at San Pedro Square in San Jose.
Bearing in mind the need to reduce our imprint on the landfill, consider first going to the local artists' collective known as the Tea Shack Project (www.teashackproject.com) and buying a stylish canvas tote bag emblazoned with inked-letter logo (only $12)—big enough to carry everything except a Tesla Roadster.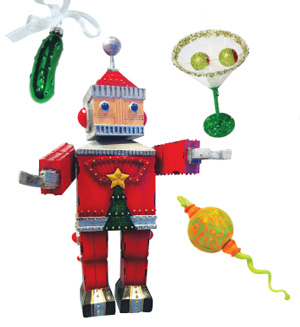 Deck the Halls
We all save ornaments, carefully tucked away in tissue paper, and then, when the holidays come, they are nowhere to be found. Luckily, a number of valley stores carry extensive selections of affordable decorations. At Grace on the Avenue (now at two locations, for the time being, in Willow Glen), a certain irreverence comes in the form of a jaunty, beglittered martini glass (made of unbreakable plastic) complete with two olives ($5.95). Just as amusing is the green-glass Christmas pickle ($6.95).
Azuca in Los Gatos offers a wide variety of Santa Claus Robots, from about $15 to $50—perhaps too heavy for a tree but perfect for a mantelpiece display.
For something more artisanal, consider doing a localized search on Etsy, where many local artists sell their wares. We were especially taken with a hand-blown ornament in red and blue that resembles a tadpole or microscopic creature—$35 from Janie and Tim of San Jose, whose online handle is RicoDelux.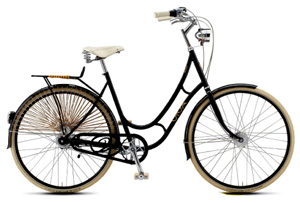 Wheel World
For the two-wheeled, human-powered enthusiast, the Ride or Die sweater from San Jose's iMiNUSD delivers a cogent message in a bit of graphic association that plays on the similarity of a bike chain to the seams of hardball—and it doesn't hurt that the Giants just won the series; $38, also available in T-shirts.
At Mike's Bikes (in Willow Glen), the Danish Viva smartly evokes cycles past in a eye-catching design that includes leather handles, a wood-slat basket and a lattice-work of tiny bungee cords attached to the rear fender. The Strada Coaster looks best in dark blue ($799.95) while the Juliett makes a head-turning statement in red ($1,249).
Any bike would benefit from the clarion call of an old-fashioned, thumb-action bell. The I LOVE My Bike bell is emblazoned with a bad-to-the-bone skull, one of many attitude-heavy designs. They can be found for under $9 at Therapy in Campbell (an endless source of hip presents) and in the gift store at the San Jose Museum of Art.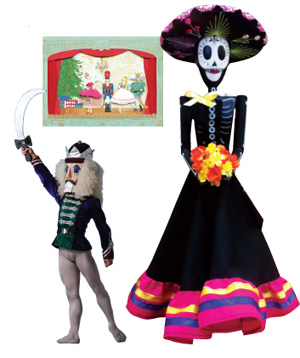 TuTu Much
'Tis the season for Nutcrackers, a perfect time to entrance a young balletomane. Maido, the endlessly fascinating Japanese stationery store on Santana Row, sells a 3-D Nutcracker card with four figures from the ballet (two with tiny mesh tutus) framed in a red-cloth proscenium arch; $6.95.
Inside the card, a generous parent or grandparent could slip a pair of tickets to Ballet San Jose's annual production of the Tchaikovsky classic, which runs Dec. 8–23 at the San Jose Center for the Performing Arts. The choreography is by longtime San Jose dancer Karen Gabay, with sumptuous new sets from the American Ballet Theatre. Tickets start at $30 (www.balletsj.org) and there are three reduced-price family shows for smaller children with shorter attention spans. In a very traditional vein, all the way from Russia comes Moscow Ballet's Great Russian Nutcracker, which will be performed once, Dec. 22 at 3pm, at Flint Center in Cupertino; $28 and up for tickets.
An entirely different take can be found at the import store Ay Dios Mio!, which sells a line of Latin-style nutcracker figures carved in wood and painted in calavera style, then dressed with traditional Mexican costumes. They are about 12 inches high, run around $90 and are utterly charming.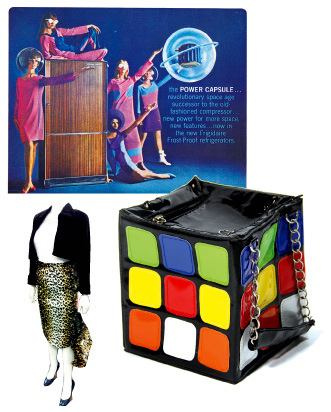 Retro Active
The fun, and challenge, of shopping vintage stores is discovering something that you know the recipient won't get from anybody else. Take for example the shiny vinyl Rubik's Cube handbag, with colored patches and chain handles—only $12 at Black & Brown on The Alameda. We got the only one, but that's the point; the store is full of such discoveries, from outrageous women's shoes to colorful men's shirts from the leisure lines of past decades.
Park Place Vintage in Willow Glen overflows with treasures from the golden age of design excess: the 1950s. The rattan and mahogany dresser ($800) could anchor a bachelor-pad bedroom. A bit more practically, Park Place carries a couple of lines of retro women's clothing from Voodoo Vixen and Pin Up Couture that perfectly replicate the leopard-print skin tight pants and poodle skirts of the Eisenhower era, with the advantage of coming in a variety of sizes at reasonable prices (mid-$40 and up).
Radio Daze & Collectibles in Campbell is stuffed (even the low ceiling is covered with old pictures) with irresistible nostalgia—mostly from the 1950s and 1960s. Some of the ads culled from magazines of that Mad Men–esque era were neatly packaged for giving in plastic sleeves and reasonably priced at $4; a Frigidaire ad with women in see-through space helmets evokes an era when everything seemed possible.
More Shopping Options:
Home Accessories: Modern shoppers get a cleaned-up version of the way things are supposed to look... Read More
Gifts for Kids: The holidays are designed mostly to please children. The compendious Hicklebees in Willow Glen carries a number of appealing toys, from a very soft plush owl ($18.95) to a fearsome T-Rex stage puppet by Fokmanis ($25.99)... Read More
Gifts for Pets: Most pets actually prefer the box a present came in to the present itself, but that doesn't lessen the pleasure of including them in the gift-giving festivities... Read More
Literary Gifts: Unless you are dead set on giving a copy of Paula Broadwell's romance novel, All In: The Seduction (er, Education) of General David Petraeus, there are lots of local authors and topics to consider.
Gifts for Foodies: A tea lover would appreciate some loose-leaf choices from Satori Tea Company in San Jose, combined with the nifty Teafu appliance... Read More
Beer Gifts: The valley offers many holiday choices for beer lovers... Read More
Gifts for Music Lovers: Music is always a good Christmas gift, but as record stores continue to disappear, it's getting harder to find options outside of iTunes download cards... Read More
Volunteer Opportunities: Many people find a way to give back to their community during the holiday season, regardless of interest or schedule... Read More