Holiday Gift Guide
Learn Something New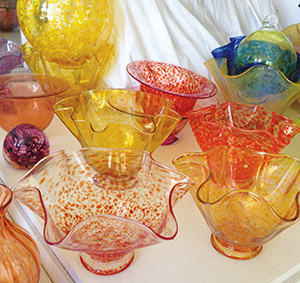 Glass-making
Since 1996, the nonprofit Bay Area Glass Institute has taught South Bay denizens the art of glassblowing, fusing and cold-working. The experienced use the studio spaces and the inexperienced come here to get acquainted with the art. Instead of buying a pretty-yet-mass-produced vase, here's a way to give someone the opportunity to make one of his or her own. Maybe then, they can pay it forward by gifting you with one of their misshapen masterpieces. Beginners classes start at $160. Bay Area Glass Institute, Suite 115 at 401 E. Taylor St, San Jose. 408.993.2244. bagi.org.
Wine and Art
Does a friend fancy himself an artist? Well, maybe he will after a few glasses of wine. Vino Artist, a studio minutes away from Santana Row, offers three-hour art and wine parties where attendees get to do the painting under the gentle guidance of expert painters and a steady buzz. For $65, guests can enjoy some food, wine, a lesson in painting and creative company. The studio encourages guests to dress to impress, whatever that means to each person. A tux could earn a few admiring nods; rollerblades, a round of applause. Vino Artist, 3777 Stevens Creek Blvd, San Jose. 408.755.5692. vinoartist.com.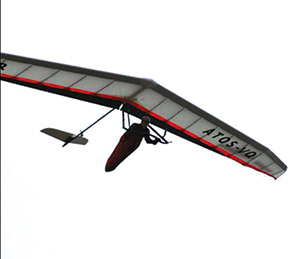 Hang Gliding
Pat Denevan is considered one of the best hang gliding instructors in the country. Since opening his shop and school Mission Soaring more than three decades ago, it's become a destination for anyone looking for equipment, skills and safety training, or an introduction to the fundamental dynamics of hang gliding. For $160, the uninitiated can learn the ins and outs of soaring at a five-hour introductory class, which includes an orientation followed by several controlled low-level solo flights. The better-prepared can venture on a high-flying tour of Big Sur, Hat Creek or Indian Valley. Mission Soaring, 1116 Wrigley Way, Milpitas. 408.262-1055. hang-gliding.com.
Farm Tours
Little pockets of Santa Clara Valley, once known as the "Valley of the Heart's Delight," are returning to the region's agricultural roots. Full Circle Farm in Sunnyvale is one of those earthy enclaves in the technology capital of the world. The nonprofit farm offers affordable and locally produced food and education about agriculture and sustainable living. Come on a weekday to get a tour of the land and discover composting, honeybees, fruit orchards, crop rows, gardens and plenty of chickens. If you stay long enough, you could make a salad using just-picked produce. Tours cost $10 for an hour and $15 for 90 minutes. Full Circle Farm, 1055 Dunford Way, Sunnyvale. 408.735-8154. fullcirclesunnyvale.org.
Wine Tasting Classes
Coterie Cellars views smallness as a virtue. The tiny winemaking venture in Willow Glen crafts every wine by hand, from berry to bottle. Tastings are free, but to learn more about the finer points of detecting a note of cherry and a hint of pencil shavings, or whatever, take a class. A $39 session taught by the winemaker among the barrels explains how the wines are made and how to pick up on complex flavors, among other things. If they talk you into becoming a member, get 15 percent off a bottle before you leave. Coterie Cellars, Unit 110 at 1805 Little Orchard St., San Jose. 408.288.5553. coteriecellars.com.