Features & Columns
San Jose Eases up on Medical Marijuana
San Jose Mayor Chuck Reed figures it's time to take a breather
on the medical marijuana issue in the city.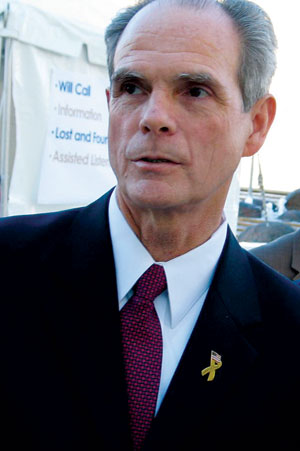 Call it a white flag or common sense, the city of San Jose has given up on trying to establish a revised medical marijuana ordinance. Mayor Chuck Reed put out a memo last week calling on the city to rescind its ordinance after a successful referendum effort delayed implementation of a regulatory programby the city.
The mayor tells Metro that fruitless negotiations on an ordinance compromise with industry experts, as well as the California Supreme Court's decision this month to look at four cases relating to pot clubs, made it clear that he and city officials were in over their heads and should devote the next 10 months to other issues. There is also the potential for a statewide ballot initiative that could go before voters in November.
"We're just in a position where we can't fix this without some clarification on this unsettled area of the law," Reed says. "It's just impossible for local government to do. So, we're just going to have to wait."
Reed recommends rescinding the city's ordinance for a year as the state's high court reviews how to interpret state law regarding medical cannabis and collectives.
Doug Chloupek, of Med Mar Healing Center, was one of many collective operators to cheer the decision.
"The fact that the city is rescinding its ordinance shows how attentive the mayor and his staff have been to our negotiations and what the industry and the city as a whole need in order to work together," Chloupek says. "'I think the fact that they're at this point shows how engaged the mayor has been."
It also shows how much the mayor wants to disengage from the issue.
In total, the mayor and his staff, as well as other city councilmembers, met with pot club advocates five times over the course of three months to discuss a compromise following the successful referendum petition drive last November.
Those talks, according to James Anthony, the lead attorney for Citizens Coalition for Patient Care (CCPC), are now dead.
"Obviously, this doesn't even come up as an issue if there wasn't a referendum," Anthony beams.
While the Supreme Court could take its sweet time on resolving the outstanding issues, the ballot initiative drive for later this year appears to have strong support at the financial and organizational levels.
"The statewide initiative has a lot of legs right now and it's gaining traction," Chloupek says.
The city will continue to collect taxes on collectives—from March through November, San Jose collected $2.9 million—but it will not raise the rate on gross receipts from 7 to 10 percent.
According to Reed, the city will focus its enforcement efforts on tax collection and where collectives ply their trade.