Features & Columns
Signing On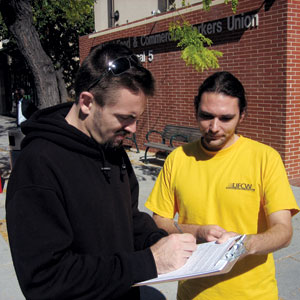 SAN JOSE cannabis activists hoping to repeal the city's new dispensary regulations say they are on track to collect a 48,000th petition signature before Thursday's deadline. And considering how many times during the last month I've been asked to "save cannabis" on the way into the neighborhood Target store, I don't doubt it. The petitioners need 30,050 valid signatures to place a referendum on the ballot.
The referendum would let voters decide whether to repeal a city of San Jose ordinance that would slash the number of permitted dispensaries to 10 and require them to grow and process all buds, edibles, tinctures and capsules onsite. Citizens Coalition for Patient Care, the group running the petition drive, calls the ordinance "unworkable."
CCPC Chairman James Anthony says the group will schedule a time between Wednesday and Saturday morning to turn in the signatures to the City Clerk's office. "We're seeing a very enthusiastic response from the community in San Jose," says Matt Witemyre, CCPC co-chairman.
Counting Patients
If the petition drive fails, the question needs to be asked: Can 10 dispensaries fulfill San Jose's medical cannabis demand? The big unknown is how many residents hold valid cannabis recommendations. New research published by UC–Santa Cruz sociology professor Craig Reinarman says that 200,000 people in California use medical cannabis. Reinarman got that number by surveying 1,746 doctors and patients in California.
The exact number of patients in California has been notoriously hazy. Of the 16 states that have approved medical cannabis, only California and Washington don't require patients to register with some sort of state-run identification program.
According to the California branch of the National Organization for the Reform of Marijuana Laws, the percentage of people registering with state medical cannabis programs across the country ranges from 0.3 percent (Hawaii) to 3 percent (Montana). Cal NORML estimates 2-3 percent of Californians use medical cannabis—that's 750,000 to 1.1 million people.
Locally, Santa Clara County administers the state ID cards, which expire after a year. County Public Health Department Spokeswoman Amy Cornell says 132 cards have been issued so far this year; 264 were issued in 2010. "Unfortunately, we are not able to estimate how many people have cannabis recommendations but do not have state ID cards, because physicians are not required to report that information," Cornell says.
Kris Hermes, spokesman for Americans for Safe Access, says a number of factors may steer patients away from the state program. Cost is possibly the most prohibitive. Santa Clara County charges $150 for the cards or $75 for Medi-Cal patients.
"There is also a fear of incrimination if patient records are subpoenaed or somehow seized by law enforcement," Hermes says. "Although this is generally not a problem, the state of Michigan is currently providing patient records to the feds."