Features & Columns
Sex-Surrogacy Fears for Survival
Feds ignore First Amendment rights by stoking moral panic over prostitution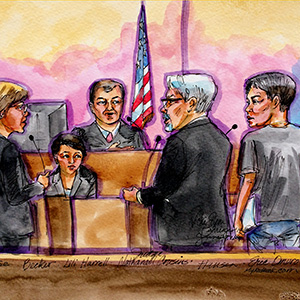 When FBI agents last month raided two South Bay homes, shut down the MyRedBook.com sex-for-sale website and arrested Mountain View resident Eric "Red" Omuro, stories from L.A. to the North Bay focused on a court-skipping, money-laundering prostitution enabler. The 53-year-old escort listings entrepreneur and his alleged 40-year-old accomplice, Annemarie Lanoce, were held up as shadowy villains in the escalating moral panic over human trafficking.
What somehow managed to escape the salacious made-for-TV coverage, however, was the suppression of key First Amendment rights and the disappearance of thousands of legal escort and masseuse ads—as well as numerous ads on the site offering legal "sex surrogacy" services for men with special needs.
For some men, sites such as the recently shuttered MyRedBook, MyPinkBook and SFRedBook are the only known options for men seeking sex surrogacy, says one such worker who contacted Metro's sister newspaper, the North Bay Bohemian, after the FBI crackdown. The surrogate says the federal sting, along with recent masseuse-parlor busts throughout the Bay Area and an enhanced focus on arresting johns, has the sex-surrogacy community fearing for its survival.
"A lot of guys have no social skills, and this is the only way that they can get touched by a woman," says the source, who, like many sex surrogates, works outside state-sanctioned channels of sex therapy and requested anonymity.
If prostitution is the world's oldest profession, then sex surrogacy is perhaps the second-oldest—but one field has nothing to do with the other, says Vena Blanchard, a pioneer in the American sex-surrogacy movement at the International Professional Surrogates Association (IPSA), a training and certification organization with offices in San Francisco.
A key facet that distinguishes sex surrogacy from prostitution, in the legal sense, says Blanchard, is that "surrogates are not soliciting clients to come to them—they are working with therapists."
Men who use the services of sex surrogates include amputees and guys with other disabilities, 40-year-old virgins (hey, it happens) or men who, for whatever reasons, simply cannot develop healthy, intimate relations with women. Married couples will engage in surrogate-partner therapy to help teach men a little more tenderness.
The sex-surrogate source who reached out says the value in advertising on places like MyRedBook is that it drew men who may not find their way to sex therapy because they're intimidated, can't afford it or don't know it's out there. There are several dozen IPSA-certified sex surrogates in the country, and those come to clients via referrals from licensed sex therapists.
"Some guys have no other outlet" than to find a sex surrogate, says our source, adding: "I don't see any free therapy going on out there."
The source's concerns about legal exposure may be overblown, says a veteran Bay Area sex therapist.
"As far as I know there has been no legal hassle of surrogate partners or their clients in the 30 or so years I've been practicing and writing," says sex-advice therapist Isadora Alman, who writes the popular "Ask Isadora" advice column.
But the source's MyRedBook ad, she says, emphasized gentle and healing touch, no fishnet stockings or other sexy lures—contrasted with the salacious sea of some 35,000 ads for escorts and happy-ending masseuses.
"Sex therapists have a hard time forwarding to sex surrogates," says the source, adding that she's been a professional sex surrogate for decades. "It's a scary time to have to start scrambling for business."
Blanchard says sex surrogates were "ill advised" to advertise on sex sites like MyRedBook.
Legally speaking, "surrogate-partner therapy doesn't exist in a gray area," says Blanchard, thanks in no small measure to State Attorney General Kamala Harris, who, while an Alameda County prosecutor, affirmed the legality of regulated sex therapy, including the use of sex surrogates.
Harris told the San Jose Mercury News in 2010: "If it's between consensual adults and referred by licensed therapists and doesn't involve minors, then it's not illegal."
Even then, says Blanchard, "only a teeny, tiny percentage would even be considered 'sex' under California law. Most of it is about relaxation, nonsexual touch; it's about learning how to focus attention on your partner."
"I don't have a problem with the sex-work industry," Blanchard adds, "but it's not at all the same thing as surrogacy." Mixing the ads, she says, "can be confusing to the public, and possibly to law enforcement, if you start fuzzying the boundaries between them."
Clients in sex-surrogacy programs learn some of the most basic intimacies, as simple as how to hug, and Blanchard describes the therapeutic process as a months-long "gentle progression" toward—maybe—actual sex with a surrogate.
"You can't resolve the difficulty if you can't get close to the behavior," she says.
According to attorney Nadia Kayyali, a legal activist who writes opinion pieces for the San Francisco-based Electronic Frontier Foundation (EFF), the seizure of MyRedBook should be a concern for all citizens, well beyond sex surrogates, sex workers and those who seek to end human trafficking.
"The seizure is part of a disturbing trend of targeting sex workers, but more than that, it is an attack on the rights to free speech and free association exercised by a diverse group of people, many of whom have nothing to do with the alleged crimes," Kayyali writes.
She goes on to note that many states outlaw certain sex acts, but "sex workers have First Amendment rights to speak out about the issues that concern them, to advocate for changes in the law, to counsel each other, to discuss the issues that are important to them and to advertise legally permissible services. And sex workers have First Amendment rights to associate with each other on Internet forums and elsewhere."
Federal authorities have cited human trafficking as a cause celebre to validate its aggressive overreach, but almost nothing was noted about that seedy aspect in press announcements of Omuro's arrest and raids on MyRedBook. Patricia West, of the Bay Area Sex Worker Outreach Project, put out a statement noting the dangerous overreach in shutting down the site, as well as the "moral panic" over human trafficking.
"Today we also lost extensive online forums for a community of sex workers to keep each other safe, screen clients, and blacklist predators," West wrote. "MyRedBook also hosted resource guides for sex workers who were struggling and created a venue for community counseling for those in need. Many local outreach organizations used this forum to connect with vulnerable sex workers."
She added: "The answer is the decriminalization of prostitution, which would effectively end the black market, and give workers the ability to unionize and report crimes committed against and around us."
Josh Koehn contributed to this report.