Features & Columns
Sativa Solidarity with Gary Salvatore
After years in the high-tech industry, Gary Salvatore is now trying to decode the city's tangled policies on marijuana collectives.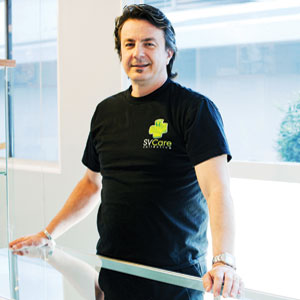 When it came time for Gary "Ace" Salvatore, owner of SVCare, to plead his case with city officials at San Jose's City Hall, he had the feeling of walking into a Michelin-starred restaurant minus the shirt and shoes.
Phone calls went unreturned. Meetings were promised but never made. After working in the high-tech industry for 15 years and spending a decade with PricewaterhouseCoopers, Salvatore was lost and shunned in his attempt to traverse the muddy waters of running a medical marijuana collective where nothing is legal and everything is taxable.
When city officials talked tough last spring about capping collectives at 10 and changing requirements ranging from zoning and the legality of edible products to where the pot should be grown, Ace realized he was in over his head.
Looking for a seat at the table, SVCare took up an informal partnership with the United Food and Commercial Workers union (Local 5), which has been avidly pursuing the medical marijuana industry. Last week, SVCare became the city's first unionized dispensary by formalizing a deal with Local 5.
"It lends credibility to the industry," Salvatore says. "We wanted a partner in this going forward, because we're in the fight for our lives.
"I think we get a little bit more recognition when were talking to these politicians who don't know us. We're kind of 'nuisance', but when they're talking to us as a union it's a little different approach."
Matthew Witemyre, a co-chair for the Citizens Coalition for Patient Care (the group that galvanized a successful referendum drive to kill the city's planned ordinance), organized SVCare's entry into Local 5. CCPC is a coalition of 20 collectives that spawned out of a smaller group that was called MC3. Salvatore is a board member.
The process of joining Local 5 was relatively simple, according to Witemyre, but it was clearly a process of building trust through relationships. Local 5 representatives talked to Salvatore and his wife, Eydie, to see if they could gauge workers' interest in a "card check neutrality agreement."
When more than 50 percent of workers turned these cards back in saying they were interested in learning more, the union began contract negotiations by talking to management and employees to better understand the work environment.
Contracts for a collective bargaining agreement on wages, hours and holiday and paid-time off were drawn up, and employees unanimously voted to approve the agreement, Witemyre says.
"That's the goal—to have closed shops," he adds, using the term of having everyone in agreement. "This industry shouldn't be about getting rich quick. It should be about dignity and providing a good job and providing quality health care."
Local 5 is continuing talks with other dispensaries in San Jose, including Cinnabar Health Collective.
"I feel that the industry is really starting to come around to that and so we're here for the long haul," Witemyre says.