01.02.08
home | the papers | metro silicon valley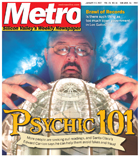 Medium Cool
The New Year is the busiest season for psychics, and Silicon Valley has a lot of them. Even true believers are always on the lookout for fraud, and Santa Clara's Edward Carrion wants to protect the psychic consumer.

Food Fight
Sunnyvale joins the grassroots movement to save kids from the Department of Agriculture with a farm-to-school revolt
The Fly: 01.02.08
Dark Sunshine, No Re-Pete & Taser Grand Jury?

Silicon Alleys:
Frank's Place
Technology News:
War changes everything, including technology

Review: 'The Orphanage'
A Spanish chiller picks up where 'Pan's Labyrinth' left off
Review: 'National Treasure: Book of Secrets'
Nicolas Cage goes hunting for clues all over again

MORE MOVIE REVIEWS

MOVIE TIMES

The Good Hustler
Benjamin Henderson's mood swings

MORE MUSIC AND NIGHTLIFE

MUSIC AND CLUBS LISTINGS

MUSIC AND NIGHTLIFE CALENDAR PICKS

An Inconvenient Tooth
There's going green, and then there's driving to Redwood City for Pamplemousse
5 Things to Love
You Should Have Eaten This
Silicon Veggie
Merit Badge

BOOK A RESTAURANT RESERVATION

FIND A RESTAURANT REVIEW

Review: 'The Wire'
David Simon captures the pulse of Baltimore in HBO series
Stage Review: 'Jesus Christ Superstar'
Ted Neeley shows why the original is the best
Book Review: 'Smile When You're Lying' by Chuck Thompson
Reviewed by Richard von Busack
Book Review: 'The Snake Stone' by Jason Goodwin
Reviewed by Michael S. Gant
DVD Review: 'Dave Attell: Captain Miserable'
Reviewed by Richard von Busack
DVD Review: Film Noir: 'Five Classics from the Studio Vaults'
Reviewed by Michael S. Gant
Events:
Dia de los Tres Reyes Magos celebration
Kids Events:
Author Beth Lisick appears Thursday, Jan. 3, at 7:30pm at Kepler's in Menlo Park

Letters to the Editor
January 2-8, 2008