01.07.09
home | the papers | metro silicon valley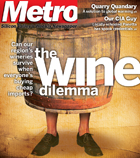 In the Red
Once the money flowed freely, but economic struggles and shrinking distribution are becoming a huge buzz kill for this region's acclaimed wine country 

Chasing the Quarry
The state battles global warming in cement plants like Cupertino's Hanson Permanente
The Fly
Silicon Valley News Notes

Silicon Alleys
Cat People
Style
The Perfect Fit
Sports
The world's most entertaining bad team
Kids Movies
'The Tale of Despereaux'
Events
Handyman/ex-soap opera actor Rob Hillis of 'Extreme Makeover: Home Edition' will do some fix-it demonstrations at this weekend's South Bay Home and Garden Show. The Show runs Jan. 9–11 at the Santa Clara Convention Center.

Movie Review: 'Revolutionary Road'
A suburban trap dooms the artistic dreams of a passionate couple
Movie Review: 'The Wrestler'
Mickey Rourke grapples with his demons in a ring drama
DVD Review: 'Europa'
Criterion reissues Lars von Trier's 1991 film about an young American on the loose in post-war Germany
DVD Review: 'Battlestar Galactica: Season 4.0'
The desperate search for Earth continues as the sci-fi series homes in on its stretch run
DVD Review: 'Visits: Hungry Ghost Anthology'
Four short films with eerie plots and supernatural overtones show what young Malaysian horror directors are up to

MORE MOVIE REVIEWS

MOVIE TIMES

Power Packed
The members of Tower of Power are still going strong after 40 years.

MORE MUSIC AND NIGHTLIFE

MUSIC AND CLUBS LISTINGS

MUSIC AND NIGHTLIFE CALENDAR PICKS

New South
Mezcal offers a different and distinctive take on Mexican
Silicon Veggie
Loving Hut
The Wine Column
Future in Syrah

BOOK A RESTAURANT RESERVATION

FIND A RESTAURANT REVIEW

Dance Preview: Margaret Wingrove Dance Company
San Jose choreographer Wingrove turns a novel about growing up in Shanghai
Stage Preview: Tobias Wolff
Word for Word company dramatizes the tale of Tobias Wolff
Book Review: 'Now the Drum of War'
Robert Roper explores the Civil War experiences of poet Walt Whitman and his brothers; the author appears Jan. 13 at Kepler's in Menlo Park

Letters to the Editor
January 7 - 13, 2009