01.14.09
home | the papers | metro silicon valley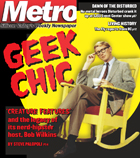 Host Story
Bob Wilkins, of the legendary 'Creature Features' show, was more than just a horror host. He was the Bay Area's original cool geek.

Silicon Valley News
San Jose's Mayor Chuck Reed declined to campaign for Barack Obama. Will that hurt his efforts to attract federal clean-tech dollars?
The Fly Reports on Silicon Valley News
Witnessing history with Silicon Valley notables at the Inauguration.

Travel Notes: Excursion experts descend on Santa Clara
Gary Singh looks at travel convention in Silicon Alleys
Style and Fashion in Silicon Valley
Lace is a big trend this season
Sports: Stars on Ice Tour comes San Jose

Film Review: 'Che' is too big for one movie
Steven Soderbergh and Benicio Del Toro relive the revolutionary's life in a two-part epic
Film Review: 'Waltz With Bashir'
A harrowing animated feature looks back on Israeli's 1982 incursion into Lebanon
Film Review: 'Owl and the Sparrow'
A look at a week in the lives of some Saigon citizens doesn't rise far enough about a travelogue
Film Review: 'Notorious'
A biopic traces the rapid rise and fall of a really big rap star
Film Review: 'Noir City'
The best of Hollywood's bad girls are brought back to the big screen
DVD Review: 'My Heart Is Mine Alone'
The story of Expressionist poet Else Lasker-Schuler is dramatized in a 1997 feature
DVD Review: 'Children of the Stones'
A British TV cult series from the 1970s returns
DVD Review: 'Bangkok Dangerous'
Nicolas Cage lives by the code of hit-man cliche

MORE MOVIE REVIEWS

MOVIE TIMES

Music Preview: Disturbed
The nu-metal favorites blast into SJSU Event Center on Jan. 27
Music Preview: 'Gemini Soul' at the Hedley Club at Hotel De Anza in San Jose
The jazz-funk foursome looks forward to a new era of hope in politics and music
Music Preview: Hot Club of Cowtown swings into Redwood City Jan. 22
The quartet looks to Stephane Grappelli for inspiration
Music Preview: International Piano Festival in San Jose
The weekend is devoted to historic keyboard performances at SJSU

MORE MUSIC AND NIGHTLIFE

MUSIC AND CLUBS LISTINGS

MUSIC AND NIGHTLIFE CALENDAR PICKS

Dining Review: The Cupertino Bakery serves great Indian food
Forget the name, this Cupertino restaurant delivers a surprising variety of South Indian cuisine
Metro's sourdough helps Summit fire victims
Live Feed contributes to the cause with sourdough bread starter

BOOK A RESTAURANT RESERVATION

FIND A RESTAURANT REVIEW

Art Review: Bay Area Artists at San Jose Museum of Art
Two shows spotlight local Abstract Expressionist and a quirky collage artist
Stage Review: 'Twentieth Century' in Mountain View
TheatreWorks revives the famous screwball comedy
Book Box: 'Going to See the Elephant'
Richard von Busack reviews Rode Fishburne's new novel
Theater Preview: New plays in Silicon Valley for weekend of Jan. 23-25
The 2009 season starts off with a raft of stage/movie crossovers

Letters to the Editor
January 21 - 27, 2009