01.23.08
home | the papers | metro silicon valley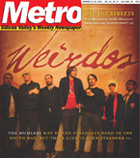 Weird is the New Beautiful
They may be the South Bay's strangest band, and not just because they got most of their instruments from the San Jose Unified School District. But after a series of happy accidents with their debut CD, it's becoming clear that they also have the strangest luck.

Everybody Off The Streets
County officials admit they're losing the battle against homelessness. But with a revolutionary approach, they say they can end it locally in seven years.
The Fly: 01.23.08
Get Back, Big Trouble in Vietnam Town & Inside Blooper

Silicon Alleys:
The Tiffany Files
Technology News:
Tech: What's so bad about cloned food?
Events:
Kung Fu Vampire are hosting a blood drive
Sporting Events:
San Jose Sabercats
Kids Events:
California Theatre Center's production of 'The Adventures of Tom Sawyer'

Film review: '4 Months, 3 Weeks and 2 Days'
Cristian Mungiu's gritty Romanian film looks at life in a world without legal abortions.
Film Essay: Paris Matched
'It's So French' book tells how Americans fell in love with France onscreen
Film Review: 'Mad Money'
Diane Keaton, Katie Holmes and Queen Latifah on a crime spree
Film Preview: Noir City
Vintage features explore the dark side of cinema

MORE MOVIE REVIEWS

MOVIE TIMES

Lincoln Brigade
Wynton Marsalis and his Jazz at Lincoln Center Orchestra strive to liberate listeners from the tyranny of pop
Music Picks:
Ryan Adams, Bob Brozman & Scripted

MORE MUSIC AND NIGHTLIFE

MUSIC AND CLUBS LISTINGS

MUSIC AND NIGHTLIFE CALENDAR PICKS

Hot Shokolaat
Ambitious new Palo Alto restaurant delivers
5 Things to Love
Specialty Food Markets
Live Feed
Cooking With T.J.'s

BOOK A RESTAURANT RESERVATION

FIND A RESTAURANT REVIEW

Stage Preview: Teatro Visión
Local troupe debuts new play about Che Guevera, 'School of the Americas'
Stage Review:
Wendy Wasserstein's 'Third' at TheatreWorks
Stage Review:
Sam Shepard's 'True West' at Pear Avenue Theatre
Stage Review:
'Boy Gets Girl' at City Lights
Book Review:
'It's So French' by Vanessa R. Schwartz
Classical Review:
Violinist and guest conductor Joseph Silverstein shines at Symphony Silicon Valley concert
DVD Review:
'El Cid' returns in collector's edition
DVD Review:
'Two and a Half Men: The Complete Second Season' celebrates the wastrel's life
DVD Review:
'Lee Miller: Through the Mirror' looks at life of famed photographer

Letters to the Editor
January 23-29, 2008