February 8-14, 2006
home | the papers | metro silicon valley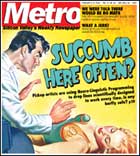 Succumb Here Often?
Pickup artists are using Neuro-Linguistic Programming to drop lines scientifically designed to work every time. Is any barfly safe?

Beyond Alito
The abortion debate—and feminist politics—needs a shake-up.
Silicon Valley News Notes
Déjà vu for SJPD chief Davis.

Silicon Alleys
Dennis Erectus: A Monument.
Technology News
Son of Dotcom.
Car Culture
Though surveillance can be frustrating for paranoid people, technology goes both ways.

Computer Lust
At last, Harrison Ford's 'Firewall' gives IT guys the movie they've been dying for.

MORE MOVIE REVIEWS

MOVIE TIMES

All of Me
A singer/songwriter isn't all that Anya Marina is.
Hyphy Nation
I'm in the building and I'm feeling like weeee!

MORE NIGHTLIFE

NIGHTLIFE CALENDAR

Can You Believe That Jerk?
Back A Yard brings Jamaica to the peninsula.
5 Things
Restaurants Guaranteed To Impress.
Live Feed
The Owl Cove Cafe at Santa Clara's Mission College.

BOOK A RESTAURANT RESERVATION

FIND A RESTAURANT REVIEW

Naked Cities
Tracey Snelling and Michael McMillen fashion miniature worlds at de Saisset show.
Inheriting The Past
The science vs. creationism controversy won't die in San Jose Stage Company's production of 'Inherit the Wind.'
Quintet
Five women look for a way out of Purgatory in RTE's 'Waiting to Dance.'
New Worlders
SJ Rep's 'Immigrant' tells a familiar tale of arrival.
Book Box
The Best of the Spirit, by Will Eisner; Myself & the Other Fellow: A Life of Robert Louis Stevenson by Claire Harman; Lincoln's Melancholy by Joshua Wolf Shenk.