02.11.09
home | the papers | metro silicon valley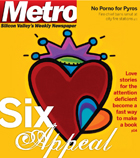 Six Maniac
How much do I love thee? Let me count the words.

Web 3.0
Apture adds a new window to the two-dimensional screen
The Fly Reports on Silicon Valley News

Silicon Alleys
Analog Send-Off
Style and Fashion in Silicon Valley
Valentine's Day
Sports: The Amgen Tour of California

Film Review: 'Wendy and Lucy'
Michelle Williams goes wandering in a loose-limbed indie
Film Preview: 'Johnny Cash at Folsom Prison'
A Cinequest documentary recalls the famous concert
DVD Review: 'Splendor in the Grass'
Natalie Wood and Warren Beatty stuggle with teen passion
DVD Review: 'Our Man in Havana'
Carol Reed and Graham Greene's spy comedy set in Havana on the brink of revolution

MORE MOVIE REVIEWS

MOVIE TIMES

Music Preview: Rev. Horton Heat
The psychobilly king comes to VooDoo Lounge in San Jose
Classical Music: Pan-Asian Music Festival
Stanford hosts three weeks of world music
Classical Music: Opera Fantasies
Livia Sohn sets opera favorites to a violin solo score

MORE MUSIC AND NIGHTLIFE

MUSIC AND CLUBS LISTINGS

MUSIC AND NIGHTLIFE CALENDAR PICKS

Restaurant Review: Good pub food at Los Gatos Brewing Co.
Stett Holbrook finds the food a cut about at Los Gatos Brewing Co.
Food Story: Mrs. A's Salsa Buena
Wine: Hollister's Pietra Santa Winery
The local winery has won awards for its sangiovese and gewurztraminer

BOOK A RESTAURANT RESERVATION

FIND A RESTAURANT REVIEW

Opera Review: 'Cosė fan tutte' at Opera San Jose
The Mozart classic gets a polished performance with an emphasis on the frothy humor
Stage Preview: 'Hamlet'
Arclight presents the Shakespeare drama as a radio-style production
Book Box: Antiquarian Book Fair
This weekend offers a feast for book lovers

Letters to the Editor
February 11 - 17, 2009