February 15-21, 2006
home | the papers | metro silicon valley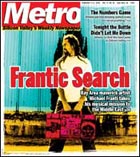 Frantic Search
Bay Area maverick artist Michael Franti takes his musical mission to the Middle East.

Downtown Crossfire
After the shootings in October, the hot topic in SJ is how downtown's nightclub scene should be policed. Charges of racial profiling are fanning the flames.
Silicon Valley News Notes
As if San Jose needs another controversy, we may soon have 8-year-olds marching on the Dome, thanks to an ordinance that would restrict the use of inflatable houses in local parks.

Silicon Alleys
Synchronicity.
Technology News
Interbreeders: 'So the idea of pure, distinct races in humans does not exist.'
Car Culture
'Secuestro' means kidnap, and the whole movie is about the carjacking and abduction of a wealthy couple from the streets of Caracas

Again Young
Jonathan Demme films Neil Young in 'Heart of Gold,' with a mix of schmaltz and genuine magic.
'Classe Tous Risques'
A classy re-release of a 1960 French crime thriller.

MORE MOVIE REVIEWS

MOVIE TIMES

Summer Of '42
Fort Minor's Mike Shinoda talks about his family's internment camp story in 'Kenji.'
Fever Pitch
Augustana bridges Britpop and Americana to make a sound of its own.

MORE NIGHTLIFE

NIGHTLIFE CALENDAR

Put a Cork In It
Three of the valley's top wine shops make it easier than ever to imbibe in style.
Live Feed
San Jose: Leaner, Meaner.
5 Things to Love
Good Sushi Restaurants.

BOOK A RESTAURANT RESERVATION

FIND A RESTAURANT REVIEW

The Soul's Sanctum
Jennybird Alcantara's paintings explore the darker realms of human nature.
Hucksters And Believers
The debate over evolution gets an evenhanded airing in San Jose Stage Company's 'Inherit the Wind.'
Born to Act
Opera San José's stars filled the stage with high drama and emotion for 'La bohème.'
Any Way You Slice It
Short plays are long on audience impact at Pear Avenue Theatre.
Book Box
The Race for Timbuktu: In Search of Africa's City of Gold, by Frank T. Kryza; Ivan's War: Life and Death in the Red Army, 1939-1945 by Catherine Merridale.