02.20.08
home | the papers | metro silicon valley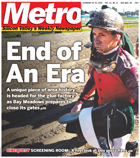 Ride into the Sun
As the resistance drops its suit against the San Mateo City Council, Bay Meadows—California's oldest racecourse and a culture unto itself—looks certain to close

Clone Wars
The FDA says meat from clones is as safe as any other food, but critics say the agency hasn't done nearly enough testing.
The Fly: 02.20.08
Political Hack, Mr. Saigon and Sen. Lieber?

Silicon Alleys:
Pink Elephant Safari
Technology News:
Why we can't afford a trip to Mars
Events:
Philip Fradkin tracks the prose and politics of Wallace Stegner
Sporting Events:
Andy Roddick returns this year to the SAP Open
Kids Events:
Disney on Ice's 'Princess Wishes"

Film Preview: Cinequest
Metro's film festival coverage tracks the screenings, guests and special events, Feb. 27-March 9
Film Review: 'Charlie Barlett'
Is Anton Yelchin a male 'Juno'?
Film Review: 'Vantage Point'
An assassination thriller with many perspectives
Cult Leader:
Diary of the Dead Films

Smooth Operators
Cut Chemist and Bay Area DJ Shadow flex their new routine
This Week's Music Picks
Meridian Arts Ensemble, Canizares Quartet and Maceo Parker

MORE MUSIC AND NIGHTLIFE

MUSIC AND CLUBS LISTINGS

MUSIC AND NIGHTLIFE CALENDAR PICKS

Why Can't We Be Friends?
Krungthai rekindles one foodie's love of Thai cuisine
5 Things to Love
Restaurants With Outdoor Dining
Live Feed
Mexican Uprising

BOOK A RESTAURANT RESERVATION

FIND A RESTAURANT REVIEW

Books:
ZZ Packer masters the art of the short story as SJSU
Books:
Philip Fradkin tracks the prose and politics of Wallace Stegner
Dance Review: 'Swan Lake' at Ballet San Jose
Dennis Nahat adds new drama to old classic
Stage Review: 'A Delicate Balance'
Dragon Productions looks at Albee's tale of family strife
DVD Review:
'Saved from the Flames : 54 Rare and Restored Films 1896-1944
DVD Review:
'Beowulf: The Director's Cut'
DVD Review:
'She's Gotta Have It'

Letters to the Editor
February 20-26, 2008