February 22-28, 2006
home | the papers | metro silicon valley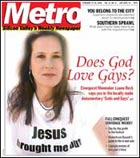 Does God Love Gays?
Cinequest filmmaker Luane Beck says yes in the locally made documentary 'God and Gays.'

Control Issues
Cupertino business owners and residents are steamed at development being orchestrated by San Jose, outside of local jurisdiction.
Silicon Valley News Notes
San Jose Mayor Ron Gonzales will leave behind a costly legacy.

Silicon Alleys
At the RSA Conference in San Jose, convention delegates jammed the floor while Secret Service chaps with spiral phone cords in their ears oversaw the action from the balcony level.
Technology News
U.S. companies struggle with the Prime Directive in dealing with China.
Car Culture
One problem with corn fuel is its relative inefficiency.

Cinequest 2006
San Jose's film festival reels from the sublime to the outrageous in 12 days.
Breech Birth
Michael Winterbottom wrestles Laurence Sterne's unfilmable 'Tristram Shandy' to a cinematic draw.
Fighting Words
'Shut Yer Dirty Little Mouth!' chronicles the alcohol-fueled battles of two SFers.

MORE MOVIE REVIEWS

MOVIE TIMES

Doing Her Own Thing
DJ Backside reps for the ladies and the hyphy movement worldwide.
Now Hear This
Earphones hurt so bad but feel so good.

MORE NIGHTLIFE

NIGHTLIFE LISTINGS

NIGHTLIFE CALENDAR PICKS

Spice World
Mountain View's Southern Spice is Indian food on the edge.
Live Feed
Metro restaurant critic's toddler is not interested in food right now.
5 Things to Love
Edible Flowers.

BOOK A RESTAURANT RESERVATION

FIND A RESTAURANT REVIEW

Growing Pains
A new show at Cantor Arts Center tracks 19th-century ideas about children in high art and popular culture.
Toilet Humor
Foothill Music Theatre opens the comic floodgates with 'Urinetown.'
Having Words in 'Private'
Northside Theatre Company plays Noel Coward's love games in 'Private Lives.'
Book Box
Covering: The Hidden Assault on Our Civil Rights, by Kenji Yoshino; Still Standing: A Century of Urban Train Station Design by Christopher Brown; Beyond the Naked Eye: Details From the National Gallery by Jill Dunkerton and Rachel Billinge.