March 1-7, 2006
home | the papers | metro silicon valley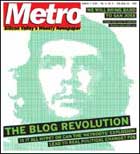 The Blog Revolution
Is it all hype? Or can the 'Netroots' explosion lead to real political change?

Distant Relations
Critics say Santa Clara County doesn't give its Human Relations Commission the power to investigate the serious issues that are brought before it.
The Fly
California leaders are turning to the South Bay to examine the statewide criminal justice system.

Silicon Alleys
Columnist Gary Singh stands up to pimps and extortionists in downtown San Jose.
Technology News
Information clutter leads to high-confidence errors.
Car Culture
According to a researcher at the Culinary Institute of America, 19 percent of all meals and snacks are eaten in the car.

Cinequest Briefs
A critical look at the documentaries and features at this year's festival.
'Lucid'
Cinequest looks north for a mind-bending thriller that bears the influence of Canada's best filmmakers.
'Occupied Minds'
Cinequest documentary entry takes disturbing trip through Israel and Gaza Strip.

MORE MOVIE REVIEWS

MOVIE TIMES

MC Lars
Post-punk rapper urges music fans to 'Download This Song.'
Music Video Women
All I really need to know I learned from watching 'BET Uncut.'

MORE NIGHTLIFE

NIGHTLIFE LISTINGS

NIGHTLIFE CALENDAR PICKS

Athena Grill
Santa Clara Greek restaurant offers food fit for a goddess.
Silicon Veggie
Vegetarian Options in The Fast Food Nation.
5 Things to Love
Essential Cookbooks.

BOOK A RESTAURANT RESERVATION

FIND A RESTAURANT REVIEW

'Romeo and Juliet'
Ballet San Jose Silicon Valley pumps up the drama in new production.
'The Heidi Chronicles'
Dragon Productions remembers the late Wendy Wasserstein with heady, East Coast-flavored play.
'Birth'
City Lights and BABI look at life from the beginning.
Book Box
The Swamp: The Everglades, Florida and the Politics of Paradise, by Michael Grunwald; Return to Wild America: A Yearlong Search for the Continent's Natural Soul by Scott Weidensaul.