March 8-14, 2006
home | metro silicon valley index | columns | live feed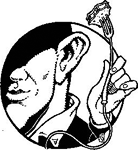 Live Feed
When in Rome—Or Mexico
By Stett Holbrook
ON A RECENT TRIP to Baja, I got vivid proof of a food truism: When in Rome, eat like a Roman. Some friends and I had rented a beach house south of Rosarito. After making enchiladas our first night and drinking our weight in tequila, the next night we went out to dinner in nearby Puerto Nuevo.
Puerto Nuevo used to be known for its locally caught spiny lobster, boiled then split in half and fried in lard. Delicious. It still is known for lobster, but now the shellfish are imported. Overfishing fueled by growing hordes of lobster-hungry tourists has all but depleted the crustaceans from local waters.
Ortega's El Patio is one of the restaurant-dense town's most popular. The Ortega family was one of the first to start serving lobster here and now has several restaurants in town. After ignoring the barkers standing in front of competing restaurants, we walked into Ortega's.
The restaurant is beautiful. A wall of windows overlooks the street below. Dim lights offset by twinkling Christmas lights give the dining room an intimate, magical glow. A tight five-piece band strolled around the dining room playing great music to appreciative diners. Beers and margaritas flowed. Everybody was happy.
And the lobster? It sucked. It was rubbery and lacked the delicate sweetness that comes from the fresh-caught stuff. Since I knew the lobster wouldn't hold up to the memories of what I'd eaten there 20 years ago, I ordered a garlic-laced fish fillet, pescado al mojo de ajo. It was passable, but the lettuce leaf, parsley sprig and dollop of tartar sauce served with it made it look like the fish special at Denny's rather than Mexican food. My friends hassled me that I had ordered the diet plate. At least the music was good.
A look around the restaurant revealed the problem: Almost everyone was white. And if they weren't white they certainly weren't Mexican. This was a Mexican restaurant for non-Mexicans.
Soured by our experience in Puerto Nuevo, we headed to Popotla the next day. My friend described Popotla as a ramshackle fish camp that looked like a set from the movie Popeye. Tumbledown restaurants serving all kinds of fresh fish lined the main (and only) street as distorted stereos belted out Mexican banda music. On the beach, bloodstained tables held stacks of fresh snapper, rock cod and salmon grouper. Dogs and seagulls trotted around looking for scraps. Cars left tracks in the wet sand.
After touring the pleasantly decrepit town, we headed to Mike's, one of the better-looking restaurants in town. Mike's has a simple dining room that leads out onto a big deck overlooking a rocky beach and the ocean. Someone had dragged out a pair of speakers and music blared into the Pacific. But the weather had turned cold so we ate inside. The dining room has its own ambience in the form of a deep-sea diving suit and a menacing-looking white shark hanging on the wall. And there wasn't a gringo in sight, only happy Mexican families out for a Saturday meal.
This time, the food was great. We had fish and shrimp tacos. They were some of the best I've had. Fresh from the fryer, the fish and shrimp were steamy hot and lay unadorned in a corn tortilla. Our waiter set bowls of condiments before us—shredded cabbage, pico de gallo and that yogurty mayonnaise that's so critical to a good fish taco. I liked the shrimp best. The plump prawns offered slight resistance with each bite but yielded sweet, juicy flesh.
Walking back to our cars, we passed a row of vendors along the road selling tamales made from freshly made masa. Belt-driven grinders hooked up to chugging generators milled the masa while we watched. In spite of my taco-bloated belly, I had to have a tamale. With the sunny weather turned blustery, the pineapple tamale warmed my hands and capped off a day well spent. I'll take fish tacos and electric shock peddlers over a fancy restaurant with middling food anytime.
Send a letter to the editor about this story.