March 15-21, 2006
home | the papers | metro silicon valley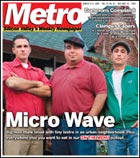 Naglee Park Garage
Big men think small with tiny bistro in an urban neighborhood.

Larry Stone
A lawsuit claims county assessor used his political clout to benefit his business dealings. Some insiders say his interventions were just part of the business of politics.
The Fly
Cindy Chavez's mayoral campaign was thrown for a loop—or, better yet, sacked, intercepted, you pick your football metaphor—by none other than ex-49er Ronnie Lott.

Silicon Alleys
Either a fraternity disguised as a joke or a joke disguised as a fraternity, E Clampus Vitus, or 'Clampers,' go out of their way to celebrate history in this part of California.
Technology News
Roomba Cockfight.
Car Culture
Thunderstruck can take any gas-powered minimoto (or any gas-powered vehicle really) and make it a plug-in electric and not lose the speed.

'Ask the Dust'
Robert Towne's adaptation of John Fante's novel betrays the vision of one of California greatest writers.
'C.S.A.: The Confederate States of America'
The South rises again in new mockumentary.
'V for Vendetta'
All's well that's Orwell in dystopian vigilante film.

MORE MOVIE REVIEWS

MOVIE TIMES

Asobi Seksu
Reaching the plateau of pleasure at SXSW.
The New Ambiguity
Jesse Thorn and the sound of dumb America.

MORE NIGHTLIFE

NIGHTLIFE LISTINGS

NIGHTLIFE CALENDAR PICKS

Santa Clara Valley Fruit
The rare fruits of the valley still thrive in the face of rampant development.
Slow Food
Get more out of your food by discovering the Slow Food movement in the South Bay and beyond.
Cheek Meat
More and more gourmets in this country are discovering what the rest of the world already knows—cheeks are not just for kissing.
Live Feed
Eat local to make a global difference.
5 Things to Love
'Sopranos' worthy Takeout Italian Restaurants.

BOOK A RESTAURANT RESERVATION

FIND A RESTAURANT REVIEW

'A Dirty Job'
Christopher Moore returns to California with a tale of comic mayhem about a matter no less weighty than Death himself.
'Anna in the Tropics'
Tolstoy moves to Florida in TheatreWorks' production.
'Romeo and Juliet'
Ballet San Jose Silicon Valley plumbs the depths of young love.
Book Box
A Godly Hero: The Life of William Jennings Bryan, by Michael Kazin; Nicholas Miraculous: The Amazing Career Of the Redoubtable Dr. Nicholas Murray Butler by Michael Rosenthal.