03.26.08
home | the papers | metro silicon valley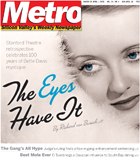 Bette Davis Eyed
One of cinema's all-time greatest actresses would have turned 100 on April 5, and the Stanford Theatre is honoring her career with a retrospective. But just what was behind those peepers that Kim Carnes sang about?

Gangster's Paradox
Law enforcement uses the state's gang-enhancement law to crack down on violence, but a judge's ruling in the Joshua Herrera case raises questions about its reach
The Fly: 03.26.08
Who You Calling A Promoter?

Silicon Alleys
Backwater Renaissance
Technology News
How Twitter's color wars wasted everybody's time
Spring Fashion
Women's Edition
Events
Cirque Dreams brings its acrobatic 'Jungle Fantasy' show to Flint Center in Cupertino
Sporting Events
Strikeforce World Middleweight Championship Bout
Kids Events
The talented kids at Los Altos Youth Theatre give Wild Bill Shakespeare a Western look in a new version of 'As You Like It.'

Movie Review: 'Run Fat Boy Run'
Simon Pegg legs it out for new David Schwimmer comedy
Movie Review: '21'
The fix is in as Kevin Spacey leads card counters to victory
Cult Leader
What the '80s did to vampire movies

Fan the Flames
Maori band Katchafire brings incendiary reggae to town
This Week's Music Picks
Amy Obenski, Toshiko Akiyoshi and The Sounds of Desire

MORE MUSIC AND NIGHTLIFE

MUSIC AND CLUBS LISTINGS

MUSIC AND NIGHTLIFE CALENDAR PICKS

Holy Mole!
El Tule has a distinctive Oaxacan flavor—and maybe the best mole you'll ever find
Live Feed
My Own Poor House Bistro

BOOK A RESTAURANT RESERVATION

FIND A RESTAURANT REVIEW

Dance Preview:
Ballet San Jose and Dennis Nahat pay homage to George Balanchine
Stage Review: 'Lysistrata'
An ancient antiwar protest looks bawdy and up to date in City Lights production
Book Review: 'Our Story Begins'
Tobias Wolff affirms his status as a great storyteller in new collection
DVD Review
Frisky Dingo
DVD Review
Suburban Shootout
DVD Review
12 Angry Men
Classical Preview
Symphony Silicon Valley sets its sights on Beethoven's Ninth this weekend

Letters to the Editor
February March 26-April 1, 2008