04.01.09
home | the papers | metro silicon valley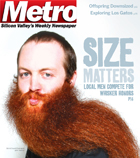 About Face
A champion beard or mustache isn't born, it's grown—and groomed and oiled and brushed ...

Moms Tell Tots: 'You're Fired!'
Local children hit hard by wave of layoffs
The Fly Reports on Silicon Valley News

Valley News: What's in a Name?
Silicon Alleys take a stroll along the newly proposed Cesar E. Chavez walkway in San Jose
Fashion News
The Eyes Have It
Sports: the flat-track power slide is making a comeback.

Film Review: 'Adventureland'
New slacker comedy does for the '80s what 'American Graffiti' did for the '50s
Film Review: 'Monsters vs. Aliens'
The sci-fi fun of the '50s lives again in animated comedy
DVD Review: 'The Robe'
The first CinemaScope epic returns in a special DVD edition
TV Review: 'Krod Mandoon and the Flaming Sword of Fire'
A new Comedy Central show makes fun of ancient adventures

MORE MOVIE REVIEWS

MOVIE TIMES

Music Review: Voices From the Past
A new release captures the aural flotsam of the recent PC past
Classical Preview: This weekend's best classical programs
A roundup of classical performances in the valley for the weekend of April 3-5
Club News: Hookah Nights
A hazy romp through the hookah bars of Silicon Valley

MORE MUSIC AND NIGHTLIFE

MUSIC AND CLUBS LISTINGS

MUSIC AND NIGHTLIFE CALENDAR PICKS

Restaurant Review: Restaurant James Randall
The hard times don't seem so bad at Los Gatos restaurant, when the crowds and portions remain generous
Wine News: Ask a Sommelier
Stett Holbrook interviews wine master Erik Entrikin of Alexander's Steakhouse
Restaurant Review: Cafe Artemis
Silicon Veggie follows the trail of vegan alternatives to a Mediterranean cafe in Campbell

BOOK A RESTAURANT RESERVATION

FIND A RESTAURANT REVIEW

Comics News: Graphic Fiction Anthology
Editor Evan Brunetti's new collection ranges far and wide across the universe of comic art
Stage Review: 'The Kite Runner'
San Jose Stage does a good job with Afghan story until overblown end

Letters to the Editor
April 1 - 7, 2009