04.02.08
home | the papers | metro silicon valley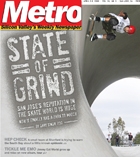 Now Boarding
San Jose skate culture finally has a park as big as its worldwide reputation.

B Warned
As many as 35,000 local Asians and Pacific Islanders in Santa Clara County have the deadly virus hep B—and don't know it
The Fly: 04.02.08
One Hand Slapping, Right to Lie and Tiny Town

Silicon Alleys
End Scenic Route
Technology News
What happens when standard English becomes Internet English?
Events
Model train show this weekend (10am-5pm) at the historic Santa Clara Caltrain Depot.
Sporting Events
San Jose Stealth make playoff run
Kids Events
Palo Alto Children's Theatre adaptation of the Dickens tale, 'Magic Fishbone'

Psychic and Psychotronic
Michael J. Weldon predicted Al Pacino's new movie '88 Minutes' 15 years ago
Movie Review: 'Snow Angels'
The chill factor freezes young romance in David Gordon Green's new film

Fallout Ploy
Just because Jimmy Eat World popularized emo doesn't mean they're responsible  for the monster it became.
Band of Brothers
In defense and criticism of My Chemical Romance, whose supporters and detractors alike are legion
This Week's Music Picks
Secret Chiefs 3 and Savoy Brown

MORE MUSIC AND NIGHTLIFE

MUSIC AND CLUBS LISTINGS

MUSIC AND NIGHTLIFE CALENDAR PICKS

Rehoboth Rebirth
Excellent Ethiopian addition is livening up Japantown neighborhood
5 Things to Love
Great Restaurant Restrooms
Silicon Veggie
Good Question

BOOK A RESTAURANT RESERVATION

FIND A RESTAURANT REVIEW

Book Review: 'The Sum of Our Days'
Isabel Allende mines her family history for a new memoir
Book Review
Baseball books for opening day: Review by Allen Barra
Book Review
Greg and Lucy Malouf's Artichoke to Za'atar: Modern Middle Eastern Food, reviewed by Michael S. Gant
Stage Review
'Souvenir' finds the comedy in bad music at San Jose Rep
Dance Review
Ballet San Jose concentrates on Balanchine
Symphony Review
Beethoven's Ninth imparts joy at Symphony Silicon Valley
Classical Concerts
April 2-5
DVD Review
Battlestar Galactica, Season 3
DVD Review
Mafioso
DVD Review
Lost Highway

Letters to the Editor
April 2-8, 2008