04.08.09
home | the papers | metro silicon valley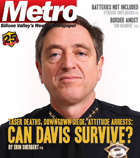 Chief Concerns
Is SJPD Chief Rob Davis too inflexible for a changing San Jose?

Clean Dreams
Will battery issues kill the electric car?
The Fly Reports on Silicon Valley News

Silicon Alleys
Cesar Chavez Memorial Walkway
Fashion News
Hey There, Sailor
Sports: Strikeforce happens Saturday, April 11 at HP Pavilion

Movie Review: 'Sin Nombre'
The trauma of a border crossing is powerfully realized in a new film
Movie Review: 'Gigantic'
A single man wants to adopt in a quirky comedy
Movie Review: 'Paris 36'
A musical about bygone Paris is pretty to look at but lacks drama
Movie Review: 'Sugar'
Just in time for baseball season comes a great movie about a pitcher trying to crack the bigs
Movie Review: 'The Betrayal'
A Laotian refugee examines the hard route to a new land
Movie Review: 'Letters to Zerky'
Art-house pioneer Bill Raney chronicles the trip of a lifetime
DVD Review: 'Il Generale Della Rovere'
A Rossellini neorealist look at surviving in hard times
DVD Review: 'Poil de Carotte'
Julien Duvivier's silent version of a famous French tale by Renard

MORE MOVIE REVIEWS

MOVIE TIMES

Live Like A Suicide
San Jose's oddest rock band takes up residency at the Blank
Music Preview: PK plays the Venue on Saturday.

MORE MUSIC AND NIGHTLIFE

MUSIC AND CLUBS LISTINGS

MUSIC AND NIGHTLIFE CALENDAR PICKS

Crazy About Donuts
Psycho Donuts, the new horror-themed shop in Campbell, isn't just about the gimmick—it's reinventing the donut
Live Feed
Organic Idol

BOOK A RESTAURANT RESERVATION

FIND A RESTAURANT REVIEW

Art Review: Echoes of Warhol
A new show of prints at the San Jose Museum of Art demonstrates the lasting influence of pop artist Andy Warhol
Stage Review: 'Distracted'
TheatreWorks delivers a scattered look at life with an ADD child
Stage Review: 'Always ... Patsy Cline'
The country legend comes alive at San Jose Stage Company
Dance Review: Ballet San Jose
Dennis Nahat's 'A Midsummer Night's Dream' keeps the magic alive

Letters to the Editor
April 8 - 15, 2009