April 18-24, 2007
home | the papers | metro silicon valley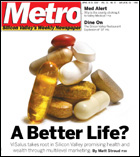 ViSalus
What is it, and should you be wary?

California Senate Bill 840
Controversial single-payer bill could make state the center of the health-care debate in 2008.
The Fly: 04.18.07
Get on the train.

Silicon Alleys
Another Chuck on fire.
Technology news
All A-Twitter: Is the new online tool for staying in touch increasing the pace of life to the breaking point?
Sports news
'Judgment Day' at the HP Pavilion.
Style
Spring things: Forwarding a dress.

Movie review: 'Hot Fuzz'
The 'Shaun of the Dead' team takes aim at cop films.
Interview: Simon Pegg, Nick Frost and Edgar Wright of 'Hot Fuzz'
These are the guys who watched every single action movie ever made.
Movie review: 'Offside'
Jafar Panahi's film keeps viewers, like its Iranian women fans, just outside the game.
Movie review: 'Vacancy'
The guests check in but they don't check out.
Film festival preview: Santa Cruz Film Festival
This week's festival explores film and music's ability to transcend barriers.
This week's revivals
Poison, deadly, movin' it slow: 'D.O.A.' at the Stanford.

MORE MOVIE REVIEWS

MOVIE TIMES

Death Angel
Rob Cavestany relives the birth of thrash metal.
Editors' Picks
Classical-music highlights, the Huxtables, Audrye Sessions and Jade of Days.
Quick Picks
Digital Underground, Jet, Tall Paul, Iggy Pop & The Hedgehog.

MORE MUSIC AND NIGHTLIFE

MUSIC AND CLUBS LISTINGS

MUSIC AND NIGHTLIFE CALENDAR PICKS

Restaurant review: Sugar Butter Flour
Silicon Valley's top new place for treats.
Live Feed
The Silicon Valley Restaurant Explosion of '07.
5 Things to Love
Great Italian restaurants.

BOOK A RESTAURANT RESERVATION

FIND A RESTAURANT REVIEW

Visual arts: 'Bare Witness: Photographs by Gordon Parks'
Parks' pioneering photos are on display at Stanford's Cantor Arts Center.
Stage: 'Pear Slices'
Pear Avenue's annual night of miniplays leans to the comic.
Stage: 'Smokey Joe's Cafe'
AMTSJ takes maximum advantage of Leiber and Stoller songbook.
Book review: 'Gangster Film Reader'
Book edited by Alain Silver and James Ursini.
Book review: 'The Bloodless Revolution: A Cultural History of Vegetarianism From 1600 to Modern Times'
Book authored by Tristram Stuart.
Kids events
The real 'Cats.'

Letters to the Editor
April 18-24, 2007.