May 16-22, 2007
home | the papers | metro silicon valley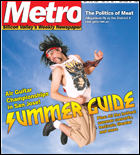 Metro Summer Guide 2007:
Air Guitar Championships | Music | Venues and concerts | Festivals | Stage | Art shows | Classical music | Sports and recreation | Family fun | Summer movies

Mud wrestling
New accusations in the District 4 race highlight how it's become about everything but the issues.
The Fly: 05.16.07
Singleton shuffle.

Silicon Alleys
Anti-man about town.
Technology news
Why TV's 'Heroes' works in the comic-book world and the real world.
Sports news
Fight Night at the Tank.
Style
Stevie Nicks: Style Icon.

Movie review: 'Waitress'
Keri Russell serves up traditional values.
Movie review: 'Killer of Sheep'
A new print finally allows us to see Charles Burnett's famed 1977 feature.
Movie review: 'Fay Grim'
Hal Hartley's follow-up to 'Henry Fool.'
Movie review: 'Provoked'
An Indian wife in England burns up her battering husband.
Cult Leader: David Hess of 'Last House on the Left'
'Krug' looks back at this early Wes Craven flick.
This week's revivals
The Stanford's Katharine Hepburn festival continues.

MORE MOVIE REVIEWS

MOVIE TIMES

Alejandra Guzman
Still the queen of Mexican rock.
Doubling Down on Brahms
Guest conductor Joseph Silverstein and Symphony Silicon Valley solve the problems of Brahms' 'Double.'
Music Picks
Nikki McKibbin, Flogging Molly and Modest Mouse.

MORE MUSIC AND NIGHTLIFE

MUSIC AND CLUBS LISTINGS

MUSIC AND NIGHTLIFE CALENDAR PICKS

Restaurant review: Udupi Palace
Specializes in classic southern Indian cuisine.
Live Feed
Spago goes.
5 Things to Love
Vegetarian restaurants.

BOOK A RESTAURANT RESERVATION

FIND A RESTAURANT REVIEW

Submerged Surrealism
Camille Rose Garcia's underground visions depict cartoon catastrophes at the San Jose Museum of Art.
Feline Grace
Children's Musical Theater knows how to paws for effect in 'Cats.'
Kids events
'The Tinderbox.'

Letters to the Editor
May 16-22, 2007.