05.21.08
home | the papers | metro silicon valley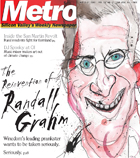 A King Without a Kingdom
In Bonny Doon's 25th year, trickster Randall Grahm gives up puns for the biodynamic revolution and makes a serious bid for his legacy

Town and Country
Angry residents in San Martin want to build a city to protect their farmlands from the county
The Fly: 05.21.08
Los Gatos skate park, District 2 County Supervisor and Bike to Work Day

Silicon Alleys
Wayback in Alviso
Tech: Why Wikipedia Can't Save Us
Even the wisdom of crowds doesn't stand a chance again tethered technology
Events
Boulder Creek Art, Wine and Music Festival
Sporting Events
San Jose Earthquakes
Kids Events
Ballet San Jose School offers a world premiere this weekend of Lise la Cour's 'Snow White and the Seven Dwarfs,' with music by Bent Fabricius-Bjerre.

Movie Review: 'Indiana Jones and the Kingdom of the Crystal Skull'
Can an adventure sequel survive a 19-year hiatus?
Movie Review: 'Mister Lonely'
It's not easy being a celebrity impersonator in Harmony Korine's latest
Movie Review: 'The Chronicles of Narnia: Prince Caspian'
A thousand years have passed, but has anything really changed in Narnia?
DVD Review
Rambo
DVD Review
The Fox Westerns: The Garden of Evil, The Gunfighter, Rawhide

Alchemical Romance
My Brightest Diamond's Shara Worden achieves the acoustically impossible
Old and New
Santa Cruz Blues Festival features biggest names in old-school and contemporary blues
This Week's Music Picks
Dead Meadow, Ladytron and Thrice

MORE MUSIC AND NIGHTLIFE

MUSIC AND CLUBS LISTINGS

MUSIC AND NIGHTLIFE CALENDAR PICKS

Fire Escape
The complex flavors of Chili Garden prove there's more to Szechuan cuisine than just spiciness
5 Things to Love
Hidden Restaurants
Live Feed
Flesh-Free Fast Food

BOOK A RESTAURANT RESERVATION

FIND A RESTAURANT REVIEW

Arts Preview
DJ Spooky brings the sounds of climate change to 01SJ Festival
Stage Review
'A Few Good Men' snap to attention at City Lights
Stage Review
Pear Avenue revisits Jane Austen in 'Northanger Abbey'
Stage Review
'Dr. Jekyll and Mr. Hyde' wrestle for psychic control at San Jose Rep
Book Review
'The Story of a Marriage,' by Adam Sean Greer
Book Review
'The Reavers' by George MacDonald Fraser
Classical Moves
This weekend's best classical-music options

Letters to the Editor
May 21 - 27, 2008